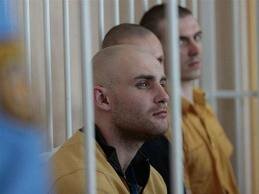 Born on 6 January 1989 in the village of Savashy, Hrodna region.  He studied in the Minsk College of Light Industry. But he was always interested in theater, literature and art. He also finished a vocational school in Karelichy. He moved to Minsk, where he worked as a loader and pressman.
Chronicle of repression
On 19 December, after work, he came to the Independence Square and joined the demonstrators. Arciom was detained and served 10-day arrest for participation in the protest rally. On 12 January he was detained again and charged with participation in mass riot. Was kept in custody in the pre-trial prison in Valadarski Street. On 26 May 2011 the Minsk court sentenced him to four years imprisonment in a maximum security colony. He served sentence in the Bobruisk penal colony. On 11 August 2011, he was released on amnesty.
On 13 December 2012 was killed in a car accident. He was buried in Karelichy.