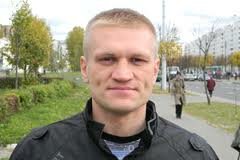 Political activist Siarhiej Kavalenka was released from a prison a year ago. He spent two years in prison for having hung white-red-white flag on the Christmas tree standing in the central square of Vitebsk.
Currently, he is studying management in Siedlce, Poland.
– Now I have a very nice view from the window.  Autumn trees have a beautiful yellow-red-green colours. I sometimes think about the view I had from the prison cell, it was dark and nothing could be seen. I like my studies. I began to understand the Polish language, I even started to answer to the questions asked. At first I was shocked, I did not understand anything, I was missing simple words – he said.
Kavalenka lives in a dorm with Polish students, whom he praises for being kind and aiding him in learning Polish. In Belarus, Sergiej has two small children.
racyja.com