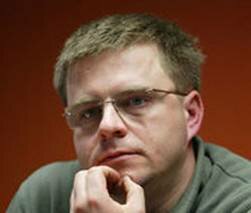 Born in 1971. In 1989  he graduated from the Geography Department at the  Belarusian State University. Former employer of the Minsk Regional Institute of Natural Resources and Environmental Protection and the Ministry of Natural Resources and Environmental Protection of Belarus. In 2000, he graduated from the Academy of Public Administration under the aegis of the President of the Republic of Belarus with a manager's degree. The same year he left civil service and became one of the founders of the Zubr opposition movement. Participant of the first Eastern Partnership Civil Society Forum in Brussels in 2009.
Chronicle of repression
Uladzimir served as election campaign chief of Andrei Sannikau's team in 2010 Presidential election. Detained by the KGB agents on 21 December 2010. Charged under the art. 293 of the Criminal Code (mass riot). On 27 January 2011, he was released on recognizance and forbidden to leave his place of residence. In September 2011 he left Belarus due to harassment and threats from the authorities. In an open letter to media, he  informed about tortures in prison and attempts to recruit him by special services. Currently residing in Poland.