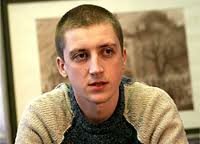 Artur Finkievich was born on 8 February 1985 in Minsk. He graduated from the Minsk highschool No. 38, and began his studies at the Institute of Parliamentarism and Entrepreneurship. He studied there for 2 years, because he failed to pass his exams as he was arrested. Since 2001, he was a member of the Young Front, in 2002-2004 he served as a head of the regional branch of the organization. Due to a disagreement with the management of the organization he left the Young Front and became the leader of the organization the Young Belarus.
Chronicle of repression
On 8 December 2005, the day before the presidential elections, Artur Finkievich was arrested for painting political graffiti. Until the trial he was being held in the Volodarka prison.
The court of the Pershamaiski district of Minsk found him guilty of the violation of the article 339, part 2 of the Criminal Code (hooliganism) and on 10 May 2006 sentenced him to two years of freedom restriction.
On 26 October 2007 the authorities opened a new criminal case against Artur. He was charged under the article 415 of the Criminal Code (violation of the conditions of a freedom restriction). On  21 December 2007 he was sentenced to one and a half years in a penal colony in Mahilou, the sentence was delivered by judge Natalia Krashkina. Artur Finkievich was released on 5 February.