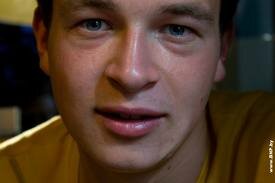 Anton was born on 28 February 1990 in Sluck. He is an editor of the bnp.by and a student of the Institute of Journalism of the Belarusian State University. A member of the Belarusian Association of Journalists.
Chronicle of repression
Surapin was prosecuted for criminal complicity for uploading photographs of the 4 July 2012 airdrop of teddy bears with pro-democracy messages over the Belarusian territory. The stunt was organized by a Swedish advertising agency to promote freedom of expression. The bears carried miniature posters demanding freedom of expression in the country, including "We demand protection of human rights in Belarus!", "We can't be made silent!" and "Free speech now!".
Surapin was the first person to upload photos of the stunt. He was arrested on 13 July.
Anton and Siarhiej Basharymau, a real estate agent who was accused for letting an apartment to one of the Swedes, were both charged under the article 371, part 3 of the Criminal Code of the Republic of Belarus (illegal crossing of the state border of the Republic of Belarus). Surapin has also been charged under the Criminal Code for helping the two pilots of the light aircraft that dropped the teddy bears to enter the Belarusian air space illegally.
Surapin was released on 17 August and taken to his home in the town of Slutsk south of Minsk by KGB agents. He was banned from leaving his place of residence.
Belarus has taken strong diplomatic action against Sweden following a stunt involving parachuted teddy bears. Belarus expelled Swedish ambassador Stefan Eriksson, known for his open support for civil society in the country. And although President Lukashenko himself denied the connection between sending a Swedish diplomat and the stunt, but commentators agree that the teddy bears were at least a pretext for getting rid of the only Belarusian-speaking EU ambassador.
On 28 June 2013, the first deputy of KGB Ihar Siarhienka issued ​​the decision to close the investigation into the "teddy bear bombing."