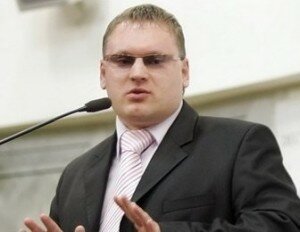 Anatol Shumchanka is a chairman of the Association of Entrepreneurs Perspektyva.
Chronicle of repression
Anatol Shumchanka was arrested on 1 March 2005 for taking part in protest actions of entrepreneurs. He was sentenced to 10 days of administrative detention. On 11 March Anatol was transferred to a detention center in Minsk, since he was accused of beating a fellow prisoner.
He was accused under the article 339, part 1 of the Criminal Code (hooliganism). On 31 March 2005 Anatol Shumchanka was released from the Minsk detention center.
Starting from January 2008, according to the presidential decree No.760 dating 29 December 2006, Belarusian sole proprietors are supposed to employ only their close relatives and family members. If not so, they have to change their legal entity and thus pay higher taxes. Expressing their disagreement, on 10 January 2008, entrepreneurs organized a protest rally where around 3.000 people gathered requesting the cancellation of the presidential decree. Within few days after the rally, more than 40 people were detained and imprisoned for 10-15 days, including Anatol Shumchanka. The Ministry of Justice has demanded the dissolution of  the Perspektyva organization.  Anatol was arrested along with dozens of other participants in the protests, on 11 January he received a 15-day prison sentence.