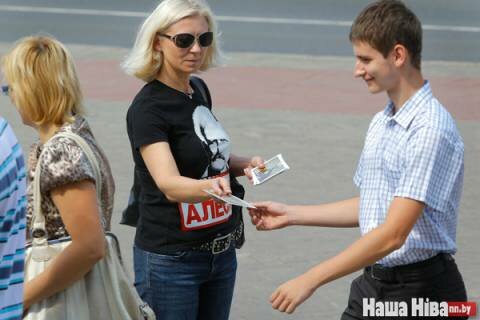 Twelve "perpetrators" appeared in the center of Minsk on the action of solidarity with Ales Bialiatski. Two participants, Uladz Labkovich and Tatsiana Reviaka were detained by the police. At the time of the writing of this material their cell phones no longer responded.
The action of solidarity was organized near the Yakub Kolasa Square in Minsk on the day after the second anniversary of the arrest of the President of the Human Rights Centre Viasna,  Ales Bialiatski. Members of Viasna dressed in  t-shirts with a portrait of Ales Bialiatski handed out to passers-by postcards with the image of a political prisoner and founder of Viasna.
According to Spring96.org , the detainees were given charges under Article 23.34 of the Code of Administrative Violations, "violation of the order of organizing and holding mass events". Their mobile phones were taken away.
At 4 p.m. Uladzimir Labkovich and Tatsiana Reviaka were taken to the Savetski District Court of Minsk.
Reviaka's case was tried by Judge Maryna Fiodarava, Labkovich's – by Dzmitry Pauliuchenka. In both cases the judges discovered some defects in the violation reports and ruled that they were to be returned to the police for correction.
The trials ended at about 5 p.m., after which the human rights defenders were released from custody. According to the law, the police have one month to correct the defects in the violation reports.
palitviazni.info
zdjęcie z "Naszej Niwy"