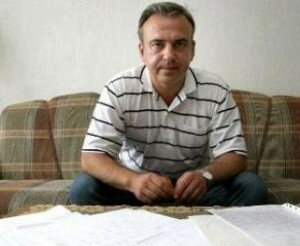 Yury Bandazhevsky is a former director of the Medical Institute in Gomel (Belarus), he is a scientist working on sanitary consequences of the Chernobyl disaster. In 1989 he created the first scientific institute in Belarus, dedicated to work on the 1986 Chernobyl disaster. He was born on 9 January 1957 in Radun in the Voranava district, Hrodna Voblast.
He graduated from the Hrodno State Medical Institute (1980) and became a specialist in anatomic pathology. He defended doctoral thesis in 1988 and received the title of Professor in 1991. He is a member of the Belarusian Academy of Medical Sciences, a member of the Academy of Sciences in New York and an Honorary Academician of the Polish Academy of Medical Sciences. He worked as a trainee clinical researcher, and later as a head of the central research laboratory of the Department of Pathology of Hrodno Medical Institute (1980 – 1990). He was a rector of the State Medical Institute in Homel (1990 – 1999).
Chronicle of repression
On 13 July 1999, Yury Bandazhevsky was arrested and placed in custody. On 4 August he was charged under the article 169, par. 3 (taking bribes). The accusation was based on evidence presented by the Deputy Director of the State Medical Institute in Homel, Vladimir Revkov, who was arrested on 12 July. There are reasons to think that Revkov was under the pressure from the authorities due to the fact that at the end of July, Revkov sent to the public prosecutor's office in Homel the statement in which he renounced his earlier testimony.
Against Bandazhevsky and Revkov was initiated criminal case. Both were accused of taking bribes from students.
On 27 December 1999, Yury Bandazhevsky was released from prison. He was banned from leaving his place of residence.
On 18 June 2001, Yury Bandazhevsky was sentenced to eight years of imprisonment on the grounds that he had received bribes from students' parents. The institute's Deputy Director, Vladimir Revkov, also received an eight-year prison sentence. Bandazhevsky's lawyer claimed that he had been convicted on the basis of two testimonies made under duress, without any material evidence. Amnesty International announced him a prisoner of conscience. His conviction was widely believed to be related to his scientific research concerning the Chernobyl catastrophe and his open criticism of the official response to the Chernobyl nuclear reactor disaster and its influence on people living in the region of Homel. He was arrested soon after he published reports critical of the official research being conducted on the Chernobyl incident.
Yury Bandazhevsky was released on parole from prison on 5 August 2005, and prohibited for five months to leave Belarus.
Before Bandazhevsky was sentenced, he was issued the European Freedom Passport. Therefore, Bandazhevsky became 25th proprietor of the passport in the world. He is allowed to freely travel across the continent and choose any European country as his permanent place of residence.
Since 2006 Bandazhevsky lives in the French city of Clermont-Ferrand, where he continues his research.