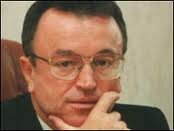 Mikhail Marynich was born on 13 January 1940. He is an opposition leader in Belarus. He is a former minister of foreign economic affairs, and former ambassador of Belarus to Latvia, Estonia and Finland. In the years 1990 – 1991 he was the mayor of Minsk, in 1990-1994 the Member of the Supreme Council of Belarus. In 1994 he was ambassador to the Czech Republic and part-time accredited ambassador in Slovakia and Hungary. In 2001, he wrote an application for resignation, because he wanted to stand as a candidate in the presidential election. However, his candidacy was not registered. He led social organization the Association Diełowaja Initiative.
Mikhail Marynich died on October 17, 2014.
Chronicle of repression
On 26 April 2004 Marynich was accused and imprisoned on dubious charges of stealing computers from an NGO, of which he was himself a president. The computers were donated by the US Embassy to the Association Diełowaja Initiative, and the US Department issued a statement that they don't have any claims against Mikhail Marynich. He was given a five-year sentence. From April 2004 to April 2006 he was a prisoner of the KGB prison and later the penal colonies in Orsha and Minsk.  Mikhail Marynich was released from jail on 14 April 2006.
In 2006, Amnesty International recognized Mikhail Marynich prisoner of conscience.
In October 2010, the UN Human Rights Committee found that Mikhail Marynich was a victim of torture and the criminal case against him was of political nature.