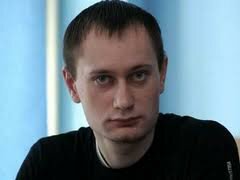 Born on 4 February 1985. A member of the National Committee of the United Civil Party and a chair of the Minsk city organization of the Yound Democrats, the UCP youth wing. During the presidential election 2010 he was a member of the electoral campaign of Jaroslau Ramanchuk.
Chronicle of repression
In 2007, as a member of the Young Front, was charged in criminal case under the article 193 of the Criminal Code (acting on behalf of an unregistered organization). He was detained for three days and fined.
He was detained on the night of 19-20 December 2010, after the rally against rigged elections. He was charged under the article 293, part 1 and 2 of the Criminal Code (mass riot). He was kept in the pre-trial prison of the KGB till 7 January, then was released under a written recognizance not to leave Minsk. On 31 January he was again detained in Minsk, interrogated by the KGB officers for about two hours and then let go.