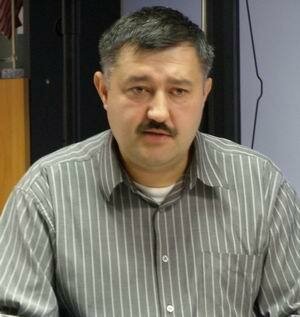 A  human rights activist from Vitebsk. In 2009 criminal proceedings were initiated against him for distribution on behalf of Russian National Union written materials, that included radical content.  
Chronicle of repression
Leonid Svecik was accused of instigating international and religious conflicts. In 2006 and 2007 Leonid Svecik assisted Vitebsk activists who received threats from the informal fascist organization the Russian National Union, and helped tham to prepare a complaint to the Prosecutor's Office. A criminal case concerning the threats was initiated by the KGB on 20 May 2008, and based on the article 130, part 1 of the Criminal Code. Leonid Svecik was called as a witness, but later discovered that he was considered a suspect.
In September 2008, the case of Leonid Svecik was suspended but on 31 March 2009, human rights activist has been charged under two paragraphs of the Criminal Code: bringing racial and religious conflicts (the art. 130) and slandering the name of the President of Belarus (the art. 367). Activist was banned from leaving the country. Leonid Svecik pleaded not guilty, claiming he was the victim of revenge for his activities in the field of human rights.
Public prosecutor Siarhiej Selichanov demanded two years in penal colony of general stringency.
Opposition activists who appeared in the court as victims, during the trial declared that Leonid Svecik was innocent. They testified, that human rights defender helped them to find people who were sending them threatening letters in 2006-2007. They claimed that he was deliberately accused of bringing international strife in order to discredit him as human rights defender.
During the trial, Leonid Svecik's lawyer, Pavel Sopialka called the charges against his client "monstrous provocation." In his speech, he enumerated  infringements, that perpetrated during the trial and investigation.
In early April, an international human rights organization the Front Line has sent a letter to Aliaksandr Lukashenko requesting to discontinue  the case which is a form of persecution against Leonid Svecik.
Human rights activist Leonid Svecik was sentenced to a fine. Judge found him guilty of instigating international conflict. On 16 July 2009 the court found that Leonid Svecik was directly related to the creation and dissemination of materials with extremist content. According to the judge Urbanovich, Svecik in this way, settled his personal matters. He  was sentenced to 31 million Belarusin rubles fine ($10 890).