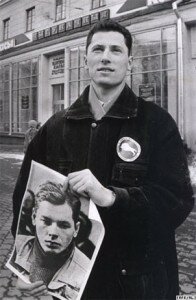 Born on 27 December 1978 in Stowbtsy. One of the first political prisoners of the post- independence Belarus and co-founder of the Young Front and Zubr movements. Studied journalism at the Belarusian State University.
Chronicle of repression
Szydlovski was arrested on 25 August 1997 in Stowbtsy. On 24 February 1998 then 19-year-old Aliaksandr Szydlovski was sentenced to one and a half years of imprisonment in a maximum security colony. The court in Minsk found Szydlovski and another member of the theYoung Front, Vadim Labkovich, guilty of committing "malicious hooliganism, desecration of national symbols and deliberate damage to historical and cultural assets."
In August 1997, Szydlovski and Labkovich sprayed on the walls and statues of Lenin and Dzerzhinsky anti-presidential slogans and Belarusian national symbols, and they changed 10 official red-green flags hanging on Minsk streets to the white-red-white flags (a symbol of the opposition to the regime).
Until the sentence was delivered, Szydlovski had spent six months in the detention center in Zhodino, and later was transfered to the Volodarka prison in Minsk.
Aliaksandr Szydlovski was released on amnesty 2 days before the end of his sentence, on 23 February 1999. Two factors, had influenced the decision of authorities. First, friends, relatives and colleagues from the Young Front intended to welcome Szydlovski on 25 February while he was leaving jail. Second, according to the Belarusian legislation, a prisoner who has been amnestied once, cannot be amnestied for next 10 years.Probably, this last factor played an important role in the fate of Aliaksandr Szydlovski.
At the end of 2007  Szydlovski took part in an incident in one of the shops in Minsk. Between Szydlovski and a complete strangers there was a quarrel about Lukashenko's portrait that hung above the cash register in the store. Strangers provoked a fight and called police. Militia officers arrived very quickly. There was no doubt that the incident was not a coincidence, but it was organized. Aliaksandr Szydlovski participated in many actions of the opposition and often receive administrative detention. But only after a fight in the store, the authorities initiated against him a criminal case. Szydlovski decided to leave Belarus. He currently lives with his family in the Czech Republic.