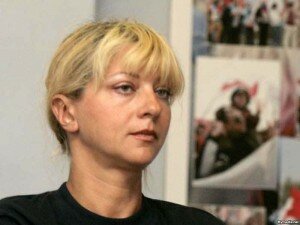 A criminal case launched against the Belarusian journalist will be re-considered by court.
The criminal-executive inspection of the District Department of the Ministry of Interior has sent the criminal case against journalist Irina Khalip to the court for a second consideration, BelaPAN news agency reports.
"When I visited the department last time for a check, I was told that my case had been submitted to a court a week earlier," – Ms. Irina says. "The court hasn't sent a summons yet. The probation period expires on July 21. This is Sunday, so a court hearing must take place no later than Friday, July 19."
According to Ms. Khalip, the court will decide whether she will be released, sent to prison or her probation will be extended.
Iryna Khalip, the wife of former presidential candidate Andrei Sannikov, was given a two-year suspended sentence on May 16, 2011.
She was convicted for taking part in a rally on December 19, 2010, under part 1 of article 342 of the Criminal Code (organising and preparing the actions that violate public order, or active participating in such actions).
She is under the police surveillance now, she cannot leave Minsk, must visit the police station for weekly checks and be at home before 10 pm.
Lukashenka repeatedly said that Khalip could leave the country and promised to organise such an opportunity for her.
On February 13, Khalip was allowed to go to the UK to meet with her husband and later to Russia to visit the office of Novoya Gazeta where she works. She returned to Belarus on April 3, before the deadline established by corrections department.