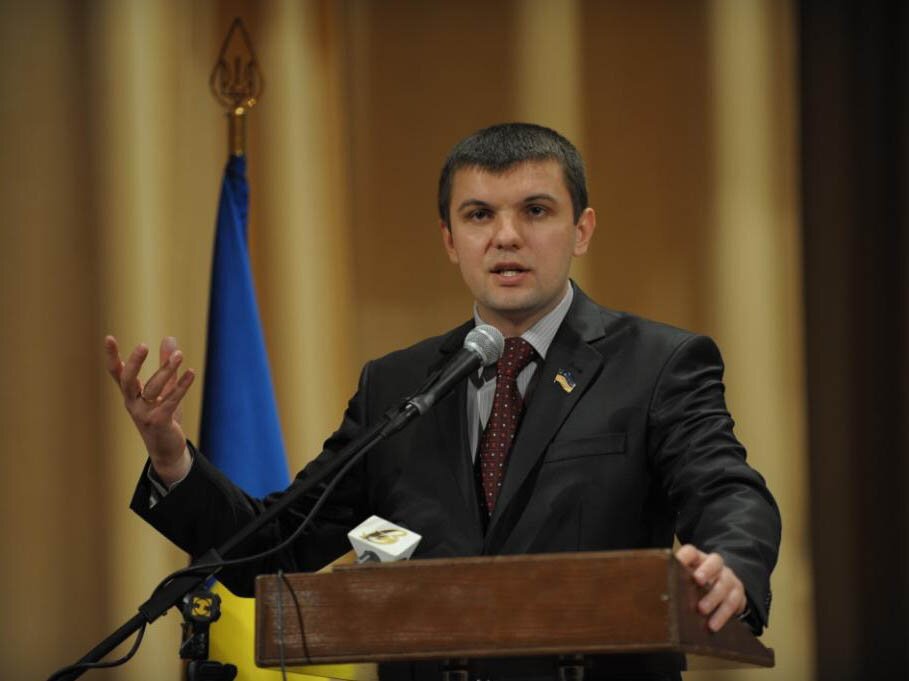 Especially for Palitviazni.info Ihor Huz, answered questions from our reporter. Ihor is the founder of Volyn Regional Council and former chairman of the youth organization "National Alliance", as well as coordinator of the Centre for Regional Development "Cooperation without Borders".
– You are one of the few Ukrainian politicians, who for a long time maintain relationships with Belarusian youth, political and social organizations. When and why this cooperation started?
Ihor Huz: I visited Belarus for the first time in 2003, when I was invited to take part in  the "Young Front" meeting. It was then that Pavel Sewiaryniec resigned and there were two candidates for the position – Sergei Bahun and Zmitser Dashkievich. After that we  have established actual cooperation, but the main events took place in 2005 during the Chernobyl Path, where I was arrested along with four colleagues. We were detained for 24 hours for participation in the action. We announced a hunger strike  while in detention. We had quite a few "adventures", Policemen beat us, and when we were returning to Ukraine we were being followed, etc. Generally, the events of 2003 and 2005 served as the inspiration for the interest in the situation in Belarus.
– Tell us how you got acquainted with the leader of the "Young Front" Zmitser Dashkievich?
Ihor Huz: We met in 2005, a few days before the Chernobyl Path. We were in Minsk, and Zmitser was our guide, he told us a lot about the situation in Belarus. Then he frequently visited our offices in Kiev, Lutsk, and took part in many of our seminars, so that we have established friendly relations. Now this man is being destroyed by the authorities.
– Why did you decide to start cooperation with the "Young Front"?
Ihor Huz: I have nationalist views, because of that at the end of the 90's I followed the activities of such Belarusian patriotic organizations as "Country" and "White Legion", that disappeared suddenly in the middle of the first decade of the twenty-first century. Similarly the Belarusian Freedom Party lost its former strength . The "Young Front" is a conservative Christian organization, quite well known and patriotic. That's why in 2005, "National Alliance" has signed a cooperation agreement with the "Young Front", later we have started cooperation with "BPF Youth", but it was much later.

The signing of a cooperation agreement between the "National Alliance" and the "Young Front" (2005)
– You have always became a victim of the repressive system of Belarus, please tell about it.
Ihor Huz: It was during the Chernobyl Path in 2005, when we raised the Ukrainian flag, it was a few months after the Orange Revolution. Lukashenko and his whole system was afraid because the Orange Revolution lifted sentiment in many Belarusians. During the action, there were five of us Ukrainians. The Policemen beat us up. At that time I was a councilor in Luck. And then drove us to the Ministry of Interior's  detention center. Then we had a trial, me along with two other colleagues. I got 10 days, one got 15 days, yet another 9 days, and all of us were sent to Okrestina prison.
We announced a hunger strike because of the suspicion that our sentences may be extended in order to intimidate others. In Ukraine, our colleagues organized demonstrations in front of the Belarusian Embassy, we received support from some of Ukrainian politicians, including President Viktor Yushchenko. Hunger strike was cumbersome, for 10 days we drank only water and juices, we had no experience in this, but we managed. The worst were the first days, but then hunger became bearable. The guards in Okrestina prison behaved well towards us. After we were released, we were followed while we were driving through Minsk in our embassy's minibus. KGB escorted us to the border of the state, but what was the point of this I still do not know.

The Chernobyl Path in Minsk (2005)
– Topic of political prisoners has become current also in Ukraine, but what do you think Belarus and Ukraine have in common and what is different in this regard?
Ihor Huz: To be honest,  I have been following the events in Belarus for last 10 years. Tymoshenko is behind bars, but in Ukraine we have other political prisoners. However we have 200 oppositional parliamentary deputies and 10,000 of such in the councils of towns. We have a chance to remove the dictatorship of  Yanukovych. We have support of people, usually 50 thousand or more comes for our demonstrations, even despite the disappointment that brought Orange Revolution. In recent days I have become quite a pessimist on the events in Belarus, because I see no real changes.
Political parties and civil society organizations are weak, but that's not the main problem, which seems to me .. the Belarusians themselves. At the post-election protests in 2006 and 2010 gathered 15-25 thousand people, but it does not suffice for overthrowing the dictatorship. Such country needs 100,000 of protesting people. Lukashenko is not that old, so I do not notice any top-down trend of the changes. You can talk about national assembly or national referendum, but from what I read in the "Belarusian Partisan", "Charter97", "Nasha Niva", trying to keep up, I do not see such opportunity. Russia and the West play with Belarus in cat and mouse, throwing scraps and then take it, аnd the fact that Makey was allowed to enter Europe – this is a scandal.
In Ukraine we have also a dictatorship, however, the difference is that Ukraine now has the opportunity to change the situation. Everything is in the hands of the people, including the leaders of the opposition – Klitschko, Yatsenyuk, Tymoshenko and Tiahnybok. Unfortunatelly, I do not see any such prospects for Belarus in a near future.

Happening to support democracy in Belarus (Warsaw, 2005)

Belarusian-Ukrainian-Lithuanian protest in Vilnius (2006)
– What is being done in Ukraine to release political prisoners and what can be done by Belarusians?
Ihor Huz: We had two main political prisoners – Yulia Tymoshenko and Yuriy Lutsenko. There are others, equally important for the Ukrainian question, there is no discussion. Lutsenko was released, but Tymoshenko remains behind bars. I'll have to say this – we will not be able to get her out. There is an option to send her abroad. I think she may accept this solution. Other mechanisms are similar to those in Belarus – signatures are collected, issued appeals to the European community, organized various initiatives, etc.
With Lutsenko it did work out, Yanukovych let him go, but Tymoshenko's case is different. So I cannot give any serious advice. We understand that if Tymoshenko is released, Yanukovych regime will fall only because of her intelligence, energy and willpower. She is a thread to him. Regardless of all her flaws, she is a politician No. 1 in the country and Yanukovych understands that. I do not know whether she will be free in this country, but I hope that she will be send abroad from where she can continue her oppositional activity. She will be able to return in one and a half years, once we succeed to overthrow the regime of Yanukovych …

Ihor Huz aand  Yulia Tymoshenko during opposition meeting in Luck (2010)
– The EU and civil society of Belarus discuss the future relations strategy. Do you think that the release of political prisoners will be a prelude to any kind of dialogue?
Ihor Huz: In autumn we will continue talks on the signing of an Association Agreement  between Ukraine and the EU, where one of the conditions of EU–Ukraine partnership is the release of political prisoners. Yulia Tymoshenko herself wrote in a letter that we should not put political prisoners nor her freedom as a condition for the entry of Ukraine into the European Union. For example, our government wants Ukraine to join the EU, but I think we should first release political prisoners. The same should concern Belarus, but the situation is different as Belarus is not going to establish close relationship with Europe. Belarusian authorities are not even in the Council of Europe.
palitviazni.info
photos: guzj.info