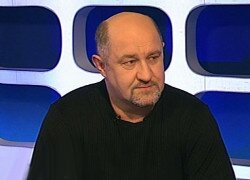 The politician believes that in the case of Hajdukou, KGB tries to use the same methods as in the Konovalov-Kovalev case.

Zmitser Bandarenka gave an interview  to Charter97 website.
I carefully read the information considering the letter of Andrej Hajdukou, in which he writes about the KGB charges against him. Immediately I noted the phrase "The potential nature of the damage caused by his activities can be expressed in the form of destabilizing socio-political situation." Remember, how during the trial the alleged terrorist Dzmitry Kanavalau constantly repeated that he committed his crime to destabilize the social and political situation in the country.
The parallels with the Konovalov-Kovalev case are evident. The authorities, similarly as in 2011 must divert attention from the catastrophic situation in the country, intimidate the opposition and the public. In 2011 they decided to tie a terrorist act with their political opponents, the head of the KGB detention center Colonel Alexander Orlov shortly after the blast  detained a number of oppositionists and repeated that it was their work. Today by the means of the secretive trial of a civic activist Andrej Hajdukou the authorities are trying to openly put the blame on the opposition.
Hajdukou wrote also that he is accused of "efforts to finance its operations with the funds of the U.S. embassy." It seems to me that  in this creative way the authorities seek to brand the non-governmental organizations as "foreign agents", like in Russia.
From my personal experience as the KGB prisoner, I can state that Andrej Hajdukou had to go through the ordeal. He was repeatedly transferred from Minsk to Viciebsk and back. Usually it is done in order to break prisoners. For us, people arrested for the square protest in 2010, it was easier, because there were a lot of us and our case had the attention of the whole world. In the prison and at the secretive trial Andrej Hajdukou has to fight on his own. Only international attention and our solidarity can save the young man, – Dzmitry Bandarenka said.
The trial of Andrei Hajdukou began on June 12. The KGB Chief Valer Vakulchyk stated that the trial will be closed. The trial against Andrei Haidukou, accused of "treason in the form of secret activity", was appointed on June 12, 10 a.m., in the Vitsebsk regional court.
The 23-year-old operator at "Naftan" Navapolatsk was arrested on November 8 in Vitsebsk. According to the KGB's official information, he was arrested during "making a recess with information which may interest the foreign secret services". Haidukou faces 7-15 years of imprisonment for treason.
Civic movement "European Belarus" came up with a statement which indicates that the activist had been detained for distributing the newspaper  Charter97. Persecution of Andrej Hajdukou is associated with his opposition views, and intimidation of youth activists.
charter97.org; Palitviazni.info
Translation by Palitviazni.info