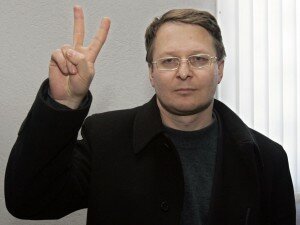 A well-known Belarusian social and political activist, lecturer, researcher and scholar. One of the founders of the Belarusian National Front Revival (BNF) in 1988, from 1999 to 2007 the chairman of the party.
He was born on 7 July 1961 in Brest. In 1983 he graduated from the Philological Faculty of the Belarusian State University, in 1986 he completed postgraduate studies at the Department of Linguistics of the Academy of Sciences. In 1990, he worked as a lecturer at the Minsk State Pedagogical Institute (now – the Belarusian State Pedagogical University). Since 1990, he worked as a teacher in the Belarusian Humanities Lyceum and in a publishing house "Spadchyna" (Heritage).
Chronicle of repression
Repressions against Vincuk Viachorka started in Soviet times. On 13 June 1984 he was arrested for participating in a protest rally against demolition of the nineteenth century theater in Minsk.
Against Vincuk Viachorka was initiated a criminal case in connection with the events of 25 March1996, the day of Will. Viachorka was accused of putting pressure on the official of the District Department of Militia in Minsk. In addition, on the morning of 27 April, after the dispersal of the Chernobyl Path Demonstration, Vincuk was detained by the militia at his own home. He spent four days in arrest and was released only due to the fact that he began a hunger strike. The criminal case was dismissed.
Vincuk was often detained during opposition demonstrations. He was several times convicted in administrative processes to fines and jail for up to 15 days.
Vincuk Viachorka's  family had also been exposed to reprisals. The greatest pressure was exerted on the son of Vincuk.
On 2 September 2004 Vincuk Viachorka filed a complaint with the Prosecutor's Office in Minsk against unlawful actions of the militia officers, who arrested him along with his minor son, Franak, on 1 September  during the demonstration"We want to study in Belarusian." He was not informed about the place of detention of his son.
In 2009, the son of Vincuk Viachorka, Franak was drafted into the army. Franak was in a hospital recovering after a surgery. Special officers stormed the hospital, handcuffed him and took him to the military commission. Later Franak was released due to medical condition, three months before the end of the service. He was threatened with criminal case for maintaining and publishing a diary that he run during his time in the army.