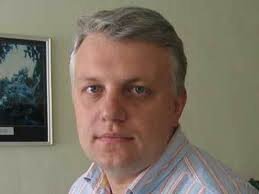 A well known Belarusian and Russian journalist. He was born on 28 November 1971 in Minsk. He studied at the Belarusian State University at the History Department. After receiving his bachelor degree he continued his studies at the Faculty of International Economic Relations (thesis topic: Offshore business).
Until 1992 he worked at the bank, he was a consultant for the economic programs. Sharamet was the anchor and producer of Prospekt, a weekly news and analysis program on Belarus state television. He was an editor-in-chief of the Belarusian newspaper Belarusskaya Delovaya Gazeta. He was working for the Russian public television company ORT.
In November 1998, Sharamet was awarded the International Press Freedom Award of the Committee to Protect Journalists, "an annual recognition of courageous journalism." On 22 April 2002, the Organization for Security and Co-operation in Europe Parliamentary Assembly announced Sharamet as the winner of its 2002 Prize for Journalism and Democracy.
He is the author of a number of documentary films: Chechen Diary, The Wild Hunt, Last Year Empire.
In recent years he worked as a journalist in the newspaper "Ukrainian Truth"
Pavel Sheremet was killed 07.20.2016 in Kiev. The car in which Pavel Sheremet was driving to work, was blown up.
Chronicle of repression
On 26 July 1997, Sharamet, along with the ORT cameraman, filmed themselves crossing illegally from Belarus to Lithuania and back again to show the ease with which smugglers could cross the border. Sharamet and his companions were detained by a border patrol after jumping a fence to film unguarded areas. Sharamet and one crew member, Zmicer Zavatski, were later charged with illegal border crossing, "exceeding their professional rights as journalists," and participating in a conspiracy. Sharamet's trial began on 17 December 1997 and ended on 28 January 1998. He was sentenced to suspended prison term of two and one and a half years. Pavel Sharamet was regarded as a prisoner of conscience by Amnesty International. In 2010 he was deprived of Belarusian citizenship. Currently Pavel lives and works in Moscow.