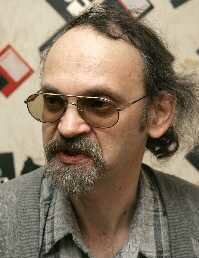 Belarusian journalist. Born in 1959 in East Germany, in a military family. In 1981 he graduated from a linguistic department with a specialization in Spanish. Prior to his military service he was Spanish teacher in a school in Borisov. In the years 1985-1988 he served in the army.
Since 1990, he has worked in such newspapers as Sovetskaja Belarusija and Narodnaya Gazeta, was a correspondent for the newspaper Femida. In the years 1995-2006, the chief editor of the newspaper Zgoda (Consent). Belarusian President Aliaksandr Lukashenko shut down Zgoda in March 2006 after Sdvizhkov decided to re-print the cartoons that portrayed the founder of Islam, including one showing the prophet, with a bomb in his turban.
Chronicle of repression
On 22 February 2006 at the request of the Deputy Attorney General, KGB officers raided the office of Zgoda newspaper. The officers confiscated all hard drives and other storage media as well as accounting documents. The founders of  Zgoda, Aliaksej Korol and Aliaksandr Sdvizhkov  were both questioned by the KGB. On the same day the criminal proceedings against Aliaksandr were initiated under the article 130 of the Criminal Code (incitement of religious and national hatred). The newspaper was shut down in March 2006 for publishing the cartoons. Sdvizhkov fled the country and wound up in a Russian Monastery while in exile. On 18 November 2007, Belarusian Secret Service agents arrested Sdvizhkov in Borisov on charges of inciting religious hatred. The 49-year-old journalist had re-entered the country and traveled there to mark the 10th anniversary of his father's death. On 18 January 2008 Aliaksandr Sdvizhkov was sentenced to three years in prison for incitement of religious and national hatred. Aliaksandr was placed in the KGB detention center. Until 30 December no one has been informed about his arrest. Within a few months in jail, Aliaksandr almost lost his sight.
The 12 cartoons first appeared in the Danish Jyllands-Posten newspaper on 30 September 2005 and outraged Muslims who saw them as blasphemous. The newspaper announced that this publication was an attempt to contribute to the debate regarding criticism of Islam and self-censorship.  The cartoons were reprinted in newspapers in more than 50 other countries over the following few months, further deepening the controversy.  But only Belarusian authorities issued such a harsh sentence.
On 25 February 2008, after leaving the prison, he said during the press conference: "I will no longer be a citizen of THIS Republic of Belarus, where are SUCH courts, SUCH prosecutors and foremost SUCH prisons. I am well aware that I am still not safe here. I will calm down when I leave the border of the Republic of Belarus." After serving his sentences Aliaksandr indeed left Belarus.