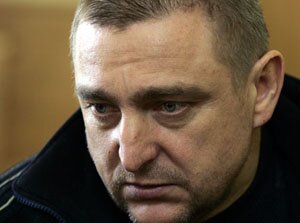 Mikalai Autukhovich had to resort to extreme measures protesting against illegal sanctions.
The businessman from Vaukavysk, who serves his term in prison No. 1 in Hrodna, injured himself – he cut his abdomen with a razor.
The information was received by the human rights organisation Platform Innovation .
Mikalai Autukhovich has been receiving unfair sanctions for the last two years. New sanctions are imposed when the old ones expire. On September 4, 2013, the political had a month until the expiry of all previous sanctions when he was accused of committing a new violation. The new disciplinary sanction deprived him of an opportunity to receive parcels and meet with his relatives that is allowed to other inmates.
Mikalai Autukhovich was punished allegedly for failure to be in bed after the bedtime signal on August 26, 2013.
The political prisoner's response to the new sanction can be explained by his successful attempts to avoid any violations not to give grounds to prison officers to punish him, the source says.
"As a military officer, he doesn't find it difficult to wake up early and go to bed on time. He got used to it. He got used not to talk to anyone for six months, just a couple of common phrases in order not to give grounds for provocations,"the source says.
The prison authorities try to stick the label of a "persistent violator of prison rules" to Mikalai Autukhovich. This status allows charging him with violating article 411 of the Criminal Code (failure to obey orders from prison staff) and adding another prison term or placinge him under police supervision after the release.
"If the prison authorities have these aims, Mikalai Autukhovich can remain behind bars for a long time. He has been in prison longer than other political prisoners. He understands perfectly that he shouldn't give a ground for sanctions. He tries to avoid it. The information we received shows that pressure on him has increased," Platform Innovation thinks.
Human rights activists sent requests to Hrodna prison No. 1 and the Corrections Department.
Mikalai Autukhovich, a veteran of the Soviet War in Afghanistan, was sentenced to 5 years in a maximum security prison in May 2010 for possession of five cartridges for a hunting rifle.
Human rights defenders declared him a political prisoner who was punished for his anti-corruption activity.