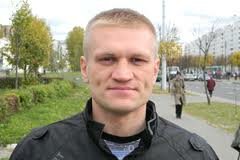 A political prisoner plans to file a complaint in connection with the disappearance of his belongings. His belongings disappeared when he was in a punishment cell and then in the medical unit of penal colony No. 19 in Mahilou, Radio Racja reports.
The wife of political prisoner, Alena Kavalenka, says:
"He found only his warm clothes. A bag with the rest belongings disappeared. It turned out they don't need the order when it comes to Syarhei. He is considered to be a persistent violator. The prison administration has biased attitude towards Syarhei. This is the only explanation of the situation."
Kavalenka's wife says he gave explanation that sanctions against him were caused by the biased attitude of the administration of penal colony No. 19 in connection with  an inquiry over his complaints to a prosecutor's office and Corrections Department.
She says Syarhei Kavalenka is in the prison unit, but doesn't work due to problems with health. In addition to his diseases, he was diagnosed with hernia. Syarhei Kavalenka's health considerably deteriorated after a long hunger strike he held protesting against his arrest and sentence.