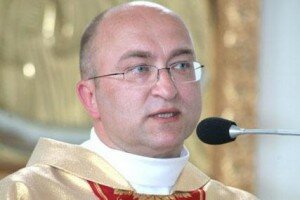 The application for recognition priest Uadzislaw Lazar as political prisoner was sent to the international organisation Amnesty International on the 26th of November.
The application was endorsed by Pawel Siewiaryniec, co-chairman of Belarusian Christian Democracy, Dzmitrij Daszkiewicz, co-chairman of "Young Front" and Anna Szapucko, respesentative of "Za wolnosc" ('For freedom') social movement.
The letter depicts details sourrounding the case against the priest who has been held in a KGB jail since the 31st of May 2013.
On the 19th of November the solidarity demontration with the imprisoned priest, organised by "Za wolnosc" group along with the BChD support was held in Minsk. During the rally Pawel Siewiaryniec called on to recognise priest Uadzislaw Lazar as a political prisoner, which in his opinion can draw attention of society to the fate of the men and force belarusian authorities to respect his laws.
Anna Szapucko critisized the belarusian human rights activists. She claims that the delay of recognision process leads to violation of his laws while kept in jail.
The human rights activists says that the are "not enough reliable informations" in the priests case.
The KGB did not presented any evidence of priests guilt and is not informing if he has been charged. There is not much known about the case. The priest has been accusted of the treason under the article 356 of Penalty Code. He faced the charges of  sending money and tangible goods to the person accused of spying for another country.
svaboda.org