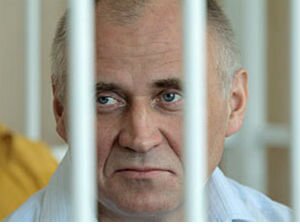 The former presidential candidate and now a political prisoner, Mikalai Statkevich is subjected to a typical Stalinist NKVD torture – sleep deprivation. Prison guards were keeping Mikalai Statkevich up for several nights – they shouted and kicked against the cell's door.-As I have learned, during a few consecutive nights the guards were trying not to let Mikalai and his cellmate sleep by making noise opening and closing a food slot, kicking on an iron cell door, screaming in the food slot every 10-15 minutes … Apparently they intended to prevent Mikalai from sleeping at night so that they could 'catch' him sleeping during the day – said Maryna Adamovich, Mikalai's wife. – As far as I know, such actions can be considered as torture. Earlier he was punished for 'day sleeping', and he described it with a cutting irony in his complaint filed to prosecutors. So, they might well have revenged on him this way – she added.
Lodging a complaint to the Prosecutor General was triggered by the prison administration's attempts to make the ex-presidential candidate fall on sword for organising mass protests after the 2010 presidential elections. Mikalai Statkevic also appeals against warnings and reprimands being imposed on him by the adinistration. As the Prosecutor's Office has no desire to tackle the problem, all Mikalai's complaints are sent to the Department of Corrections.
Mr Statkevich is regularly put in a punishment cell and deferred from being visited and phoned by his relatives. Once Mikalai Statkevich had to share a ward with a TB patient despite The Criminal Procedure Code outlaws placing both healthy and infected people, including HIV positives.
In December, 2011 Statkevich was sent to a punitive confinement due to a ridiculous mistake in the list of his personal effects: the politician qualified nose-wipers as "hygiene products". There three warnings were issued for him not having a prisoner's tag. After leaving the confinement Statkevich was placed in a close ward being accused of fight provoking.
But still, the political prisoner insists on his innocence and keeps turning down proposals to ask President Lukashenka for pardon.