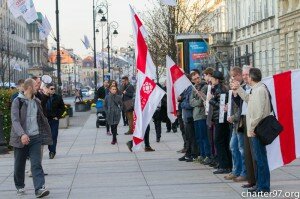 Social activists from Warsaw, Poland, demanded to release Belarusian political prisoners.
An action of solidarity took place at the entrance to Warsaw University on 24 October. One of the organizers of the action, Viachaslau Siuchyk told the charter97.org web-site, that the reason for organizing the action was the letter from a political prisoner Mikalaj Autuhovich, in which he gave the shocking account of conditions in Belarusian prisons and about the pressure that is being exerted on him by the prison administration.
-We are obliged to support him in this situation. Mikalaj Autuhovich has already spent five years in terrible conditions, but he has not stopped his struggle. We would want for this action to be followed by new measures taken in support of the entrepreneur from Vaukavysk as well as the remaining 10 political prisoners. There is a difficult situation now in Belarus, there are all prerequisites for speaking of the strengthening repressions in the conditions of an economic devastation. Belarusians abroad have more opportunities for holding such actions and must organize them, especially on the eve of the summit in Vilnius– Siuchyk said.
The participants of the action, held national flags and pictures of political prisoners. Passersby, many of whom approached and took interest in the situation in Belarus, were handed leaflets and suggested to send the letters of support to the political prisoners in Belarus
Mikalaj Autuhovich – a former entrepreneur from Vaukavysk and Afghanistan war veteran – has been in prison since 8 February 2009. He was sentenced to 5 years and 2 months for allegedly possessing weapon.