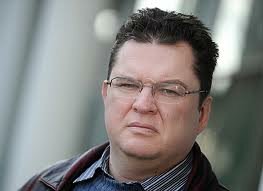 The judge granted complete freedom to Mr. Poczobut in connection with the expiration of his suspended three-year prison sentence. He could have been sent to a correctional institution or had the suspension of his prison term prolonged. 
As Mr. Poczobut told BelaPAN, he does not view the ruling as evidence that Belarusian courts were fair. "If our legal system is fair, I should have been exonerated because I haven't committed any crime," he said. "The authorities simply didn't see any need to put me behind bars."
Mr. Poczobut said that he had not changed anything in his work because of the threat of imprisonment. "When I write, my top priority is to describe the Belarusian reality as accurately as possible and not to please the KGB or Lukashenka," he said.
In July 2013, district judges in Minsk lifted all restrictions on the freedom of former presidential candidate Uladzimir Nyaklyayew and journalist Iryna Khalip in connection with the expiration of suspended two-year prison sentences imposed on them over the December 19, 2010 post-election street protest.
In 2011, Mr. Poczobut, a Hrodna-based correspondent of the Polish newspaper Gazeta Wyborcza and an ethnic Pole, spent three months in jail and was eventually sentenced to a suspended three-year prison term with two years' probation on July 5 for allegedly insulting and defaming Mr. Lukashenka in his articles. On September 20, the Hrodna Regional Court upheld the sentence.
As Mr. Poczobut told reporters, defamation was largely found in the fact that he had called Mr. Lukashenka a dictator.