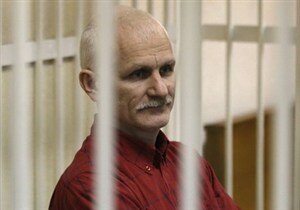 Civil society and opposition activists on Sunday marked two years since the arrest of prominent human rights defender Ales Bialiatski.
The chairman of a human rights group called Viasna (Spring) currently 50, was arrested in Minsk on August 4, 2011.
On November 24, 2011, he was sentenced to four and a half years in prison on a charge of large-scale tax evasion. The charge stemmed from information about his bank accounts abroad, which was thoughtlessly provided by authorities in Lithuania and Poland under interstate legal assistance agreements. During his trial, Mr. Bialiatski insisted that the money transferred by various foundations to his bank accounts abroad had been intended to finance Viasna's activities and therefore could not be viewed as his income subject to taxation.
Mr. Bialiatski, who is serving his sentence in a correctional facility in Babrujsk, has been vice president of the International Federation for Human Rights (FIDH) since April 2007.
The FIDH issued a statement ahead of the arrest anniversary to demand the immediate release of Mr. Bialiatski.
"The international community must not give in to a regime that toys with its citizens' life and freedom. It must join us in demanding the release of Ales Bialiatski and all political prisoners in Belarus!" said the statement.
According to the FIDH, "despite a huge smear campaign by the Belarusian authorities trying to present Ales Bialiatski as a common law criminal, his fight and his fate have not left the world indifferent."
Local authorities across Belarus rejected dozens of civil society activists' applications for permission to stage demonstrations on August 4 to demand freedom for Mr. Bialiatski.