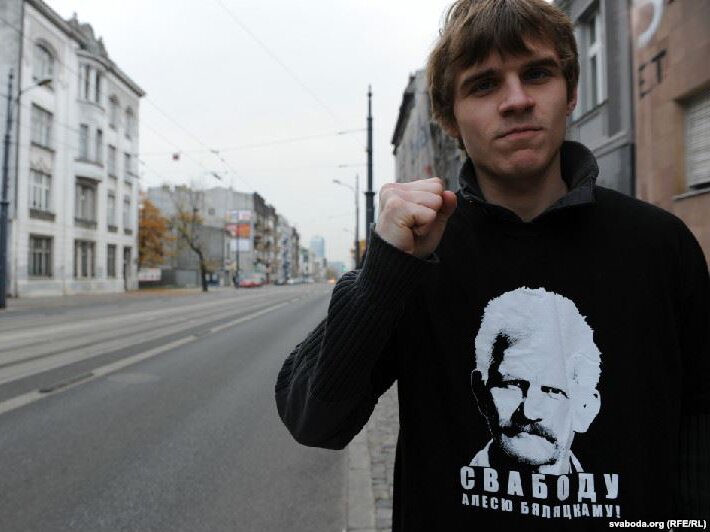 August 4 is a sad anniversary. Two years ago was arrested the founder and Chairman of the Human Rights Center "Viasna" Ales Bialiatski. Adam Bialiatski, the son of the political prisoner, gave an interview to Radio Racyja.
RR: People around the world, to whom the fate of Belarus is not indifferent, and those who deal with the protection of human rights, express their solidarity with Ales Bialiatski. And how you, his loved ones lived through this blow?
Adam Bialiatski: For me and my mother it was quite unexpected. It was a though experience to us. Today, it's been a while and we were able to in some way get used to the situation.
RR: State media often slander your father's name as well as "Viasna". It was one of the few, very successful organizations in Belarus, dealing with monitoring the human rights situation, protesting against the death penalty and presenting a direct assistance to the families of prisoners.
Adam Bialiatski: It is obvious that "Viasna" is a very influential organization. And the fact that my father is its founder had to have a certain influence on the situation, that is in the form of the reaction of the authorities. The  authorities sought the opportunity to stop his activity.
RR: At present, your parents have not many opportunities to meet.
Adam Bialiatski: That's right. Still there are posed obstacles, their  meetings are being canceled, the packages are not allowed. A lot of pressure is being exerted on both, mother and father. It would be easier for him to survive the separation from his loved ones if they allowed for meetings.
RR: Ales Bialiatski is isolated not only from his loved ones but also from other prisoners. But everyone who corresponds with your father says he does not complain over his fate, but rather writes letters steeped in the spirit of optimism.
Adam Bialiatski: That's his nature. He always has a positive attitude, no matter the circumstances! Letters that come to him also give him strength. This is an exchange of energy.
RR: Adam, you were brought up in a remarkable family. Your father has long time ago bounded his life with the defense of human rights. Perhaps you've been accustomed to your  father's arrests and detentions for his work?
Adam Bialiatski: For the safety, to the rallies took me my mom, because my dad was always arrested. He was often detained for 24h. The authorities has interest in him for a long time.
RR: You were brought up in Belarusian speaking family. Did not you feel as "painted bird" in the Russian Minsk?
Adam Bialiatski: Well, I feel good in Minsk. Friends quickly got used to the fact that I speak Belarusian.
RR: Ales Bialiatski was sentenced to 4.5 years in prison. Hopefully he will be released sooner.
Adam Bialiatski: Absolutely, we have to hope  for his earlier release. It, however, will not happen on its own. There is a  need for action. I urge everyone to support my father and write to him. I want to sincerely thank everyone who has been helping him and who supports our family.