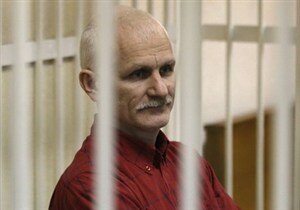 The march in support of Ales Bialiatski was banned by Homel executive authorities, since the procession route covers an underground passage and the building of the executive committee.
Homel city executive committee considered the application of local pro-democratic activists and human rights defenders Yury Varonezhtsau, Anatol Paplauny and Leanid Sudalenka asking for permission to hold a street procession and banned the mass event. A street demonstration to protest the criminal prosecution of human rights defender Ales Bialiatski and other political prisoners was expected to be held in Homel on August 4.
Strangely enough, the city authorities did not even ruled on the matter, as required by law, but replied with a message entitled "On consideration of the application for a mass event." It says that "it is not possible to coordinate the public event, because the declared place of the street procession (pedestrian part of the street Savetskaya) does not meet the requirements of the Law "On Mass Events." Deputy Mayor Aksana Rudzianok explained in the letter that the procession route is located less than 50 meters from an underground pedestrian crossing, as well as the building of executive bodies.
The official added that the applicants had not fulfilled the requirement of the executive committee's decision "On Mass Events" and failed to sign agreements with the police, the doctors and the public utilities. But, as practice shows, such agreements cannot be signed, as neither the doctors nor the police dare sign the contracts until the city executive authorities approve the event.
"We for the first time ordered NOT a picket, but a procession, which, as you know, cannot be held on the plaza outside the Association of the Deaf "Vipra" (the only place in town allowed for holding events). It is noteworthy that the officials did not even issue a decision, and limited themselves to a formal reply. The authorities still safely assume responsibility for the violation of the constitutional rights of its citizens. The piece of paper will be appealed to the court," says human rights defender Leanid Sudalenka.