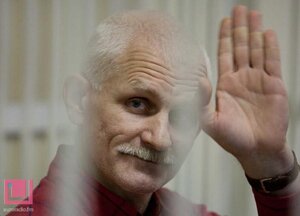 August 4 marks the second anniversary of the arrest of Ales Bialiatski, the chairman of the Human Rights Center Viasna and the vice-president of the International Federation for Human Rights (FIDH).
The formal reason for the initiation of persecution against Ales Bialiatski was the information that he  holds accounts in foreign banks, of which the Belarusian authorities have been informed by the Ministry of Justice of Lithuania and the General Prosecutor's Office of Poland.
Robert Tyszkiewicz, the Polish MP and head of the parliamentary group on Belarus, noted that neither in Poland nor in Europe  people do not forget about Ales Bialiatski. "We remember  about Ales Bialiatski. Poland solidarize with him, with his family, friends and colleagues. We feel responsible for making sure that in this difficult time they feel safe and are able to safely continue their work. Our assistance has many aspects and we will continue it until the day of the release of Ales Bialiatski. We are with Ales, we remember him, remember his family and friends! "- said Tyszkiewicz.
Ales Bialiatski was sentenced to 4.5 years in prison on charges of concealing income. Political prisoner told the court that all received foreign funds were spent for assistance to victims of political repression.
Ales Bialiatski  is serving  sentence in a penal colony in Bobruisk.