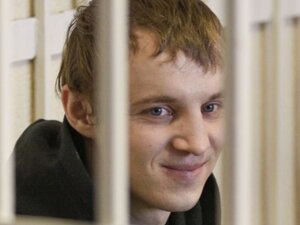 The wife of a political prisoner believes that the authorities are preparing preventive supervision over him.
Employees of the Pershamajski police department called Anastasija Dashkievich and her father today, asking if they would object if Dzmitry Dashkievich lived with them. Young Front leader's wife informed about it via her Facebook account.
"They called from Pershamajski PD and asked my father and then me if we would object if Dzmitry Dashkievich lived with us. Fantastic!", – she wrote.
This phone does not leave a doubt that prison is preparing document for establishing surveillance over the political prisoner. For how long it will be established, it is not clear.
"The essence of non-exoneration is that if Dzmitry Dashkievich, who has been in prison since 19 December 2010, is to be realeased in due time, which I really hope for, he will be under surveillance and their control", – she writes. This means that the political prisoner will not be allowed to leave the country. He will be unable to leave Minsk without being granted an allowance from the authorities.
On March 24, 2011 Zmitser Dashkievich was sentenced to two years in a penal colony. He was detained on December 18,  2010 in Minsk, a day before the presidential elections. Allegedly he and Eduard Lobau beat Kanstancin Savitski and Aleh Malyshau in a courtyard of a block of flats in Janka Bryl Street. Dashkievich and Lobau's detention was a preventive measure, taken by police on the eve of the presidential elections that took place on the following day. On August 28, 2012, Dashkievich was sentenced to another year in prison for "malicious insubordination."