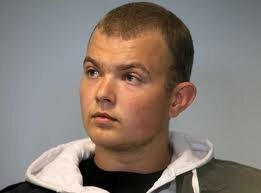 We visited a man who during 25 years of his life was arrested by the regime 14 times and had two criminal charges.
Pavel Vinogradov lives with his wife Svetlana in a one-room rented accommodation. On the floor lies "bed" consisting of blankets on which we were seated. Pavel – native of Minsk, as a child lived in the south-west area, and still lives quite close to this district . As he quips: "Here I have my first police post."
"Nasha Niva": Pavel, did you from childhood, have this "relationships" with the police?
Pavel Vinogradov: None of these things, it has started when I was quite mature, and besides, I've never been stopped for fighting and drunkenness, all of my arrests were political. It is just how it is.
"NN": Then what was your childhood like?
PV: As a child I liked to play with my friends, loiter around cottage houses, where we drank cheap wine and beer. I do not know, whether my parents knew all about it. But I had a real childhood. We drank, we had fights, sometimes we broke some fences, ordinary life of every boy.
"NN": Your parents thought about you as a figure skater and a musician, you were even attending music  school.
PV: Yes. My mother pushed me into music school. Perhaps she wanted me to be someone better, or perhaps because her parents had once forced her to attend the same school.
"NN": What did your parents learn you when you were a child?
PV: To tell the truth, in what I now notice a kind of a sanctity of life.
"NN" Where are now your parents and how do they relate to your oppositional activity?
PV: My mother is in Palermo. She works in beauty business. She injects Botox  and does minor plastic surgeries. Today she is rather positively geared to my activities. Of course, at first she was angry with me, but later, when she realized the ineffectiveness of her pressure, and that I have become "famous", she accepted everything after all. She sees the results. In some cases, she is even giving advice. My dad is a businessman. He is now in Berezin. He supports me in one hundred percent. He went to the Square in 2010, but he did not reach it as the cops arrested him.
"NN": The story of how your grandmother chased out you from the house for the white-red-white flag is quite well know. How did this happen?
PV: It was like this: the 2006 elections, on the curtains I hung white-red-white flag, which was not even visible from the street, but the grandmother said that either I'll take it off, or I have to move out. Because I already planned to move out, it went easily. First, we rented a room with a friend, and then I lived in the offices of organization "Za Svabodu" .
"NN": How your Grandma and Grandpa relate today to your political activity?
PV: Grandma – extremely bad. To this day I cannot explain that when I am arrested, it's not for cursing in a public place. A grandfather eventually began to support the opposition.
"NN": After 9th class you left school and started to learn hairdressing. Do you like this job?
PV: I like to cut peoples' hair, but do not like to work as a hairdresser. I do not like to do easy hair, I want to deal with it creatively. Therefore I cut only journalists and political activists. If you wish, I serve kindly!
(In a few minutes our photographer Gudilin was already waiting in the kitchen to have a cut. Paval told us about the adventures at work, when he by a mistake took a bad razor cap and cut some man bald: "I ​​was lucky, because he was drunk and he did not care.")
PV: In the second year, I realized that I would not become a hairdresser, but I finished the course, I worked a few months and then decided it was not for me. First, I worked mostly with females, who exerted a lot of pressure. Secondly, young hairdressers earn $ 70 monthly.
"NN": What were you doing after the Hairdressing Academy?
PV: First, I worked in the profession, then I do not remember where I took the money from. In 2006, everything was so romantic. Such a conspiracy, the resistance movement, and I was such a great partisan. Now I understand that it was far from the truth. Everything I did was without a clue, it all had no ideological foundation I did it for pure fun and scuffle. The awareness came much later. There were times when I was working on a trolley in the warehouse or as a welder and fitter.
"NN" And now you're working somewhere?
PV: My employment book is in the U.S. State Department and Polish intelligence. (Laughter.)
"NN": Is it enough to survive?
PV: No, therefore I have to get money from other places.
"NN": There was a time, when you and your wife were together working in European Belarus. Are you the kind of family that together fights on the barricades?
PV: We walk together on larger rallies, but I do not take her on my actions. She was also once sentenced to imprisonment for 15 days in 2008 for "swearing".
"NN" And what does your wife?
PV: She works in computer science, she is testing software. She works in a private company, where everyone, including the heads, know who we are. They read the news and are interested in our activity.
"NN": Give us a piece of advice, what to take with one and how to prepare for rally.
PV: 1) The cover under the jacket, for the left or right hand to defend against the police baton. If possible, also on foot, they often beat on legs. 2) Warm clothes if it is cold 3) take chocolate, toilet paper, a flashlight  4) First aid kit: bandages, antibiotics, aspirin, coal. 5) scarf or ski mask to cover ones face. Never take a knife or brass knuckles. It is not allowed to beat anyone. One has to be sober, otherwise there is no need to go.
"NN": You were arrested so many times that they have to know you  in the Moscow Interior Ministry, is that so?
PV: I am quite popular then, everyone knows me there. Half of Ministry comes to me to say hello. We're almost like brothers. I see them more often than my own father. They ask what's up with me. They see that I am a normal man. Among them are also normal people, They  just work there.
"NN": How do you pass the time in Okrestina prison?
PV: I talk to my colleagues in the cell, read, sleep and take a walk. There is a good atmosphere for reflection. If you need to think, is probably the best place.
"NN": Have you found in all of this a positive aspect?
PV: Of course. 1) If you're tired of living in the outside world, you can simply isolate. 2) I almost did not eat there, so you can lose weight 3) thoughts become clearer 4) vanishes attraction to alcohol and other similar issues. That place is not so bad, really.
"NN": So it pays to get there?
PV: In any event, the first two times are useful. You begin to understand that a simple walk down the street is a blessing. One starts to understand himself, because one sees himself in these situations differently. There one may observe how the world can be cruel and insane.
"NN": Pavel, who would you want to be, if you were not involved in politics?
PV: But I  always wanted to be a professional revolutionary. Professional revolutionary has an interesting life.
"NN": You consider yourself a revolutionary?
PM: Yes, I'm a professional revolutionary. It is a personal and professional attitude.




 Translation by Palitviazni.info