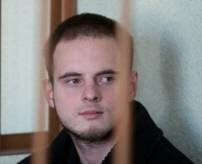 His birthday Aleksandr Malchanau spent in a maximum security penal colony.
He was born on June 22, 1988, in Borisov, where he spent his entire life. He studied at the School No. 22 in Borisov. Since year 2000, he was an activist of the youth movement Zubr. At that time, his political activities were at the constant attention of the police. He was detained for the first time for participation in the events on the Square in Borisov on January 6, 2011. Aleksandr was charged twice under the article about participation in mass riots, and the desecration of national symbols during the events in Borisov. He was detained in the KGB detention center.
on March 2, 2011 he was sentenced to three years in prison. On April 5, Minsk City Court considered the appeal against the verdict to Aliaksandr Malchanau. A board of judges presided by Valery Kamisarau upheld the verdict by Minsk Frunzenski District Court. He served his sentence in corrective colony No 15 in Mahilou. He was released on amnesty on September 14, 2011.
However, shortly afterwards against Aliaksandr  was opened the second criminal proceeding. In November 2011 he was re-arrested in Borisov and was kept  in temporary custody. This time the opposition leader was accused of stealing scrap metal. Aliaksandr could not find work because of the political process, no one wanted to hire him, so he earned for his and his parents living by collecting scrap metal. On April 9, 2012, he was sentenced to one year and six months of imprisonment in maximum security colony.
Birthday greetings for Aliaksandr Malchanau can be sent to: 222125,Belarus, Borysov region, Nowosady Village, Colony No. 14
Translation Palitviazni.info