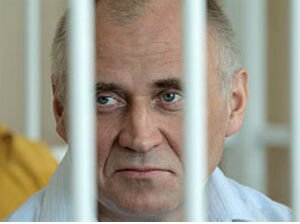 Political prisoner, Mikola Statkevich, criticized report prepared by Justas Paleckis, a special reporter of the EU Delegation for relations with Belarus.
Mikola Statkevich wrote in his letter to his wife, Marina Adamovich:
"I read about Paleckis' report. I was surprised by his thesis on the 'improvement of the situation' in 2012. For what I remember, in 2012 four political prisoners were transferred from colonies to prisons by court's decisions. And this is a significant deterioration of the situation. For example, in Soviet times one day in a prison (pre-trial jail) counted for two days in colony. And I do not even mention the pressure, which most of us had to undergo. If this is an 'improvement', then what a 'deterioration' would be? And the impression is that Mr. Paleckis does not care about the improvement of the situation here, but at best about the volumes of goods shipped from and to the port in Klaipeda", – the political prisoner wrote.
He also expressed his opinion on the Belarus-Russia relations.
"I found out from Belarusian television about the aviation base. They again, bend the truth. The oil balance will, apparently, be signed now, but the money will be wasted, and then they will sign another oil balance. And what is next?" – Mikola Statkevich emphasized.
On 26 May 2011 the politician was sentenced by the court of Minsk Partizanski district to 6 years in high security prison.
By the court's decision of 12 January 2012 the imprisonment conditions were changed for tougher ones, and he was transferred from the colony number 17 in Shklou to the prison number 4 in Mahilou.
Statkievich is often sent to a solitary confinement cell, the political prisoner is allowed to receive limited number of  parcels and for rare meetings with relatives.