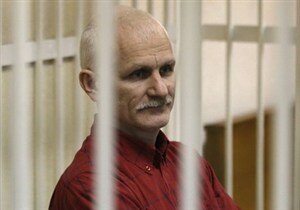 The works on a series of memories by chair of Viasna Ales Bialiatski, that are related to his arrest in 2011 are coming to an end.
Human rights activist Yelena Laptenok from Viasna  informed Radio Svaboda:
"These are the memories, reflections and objective analysis of events prior to his arrest. The case concerns the events of December 19, 2010, and searches conducted in Viasna's offices, organized shortly after the protest. These are very interesting memories, it is even more interesting for the people that took part in those events, mainly due to the unique point of view presented by Ales. He has sent me the last passages of the memories, they are now being edited and soon published, firstly online, and then, who knows, maybe in the form of a book. Currently, I expect his final opinion on the publication. Most likely, the first part of the memories will appear online on August 4 – on the second anniversary of the arrest of Ales ".
The memoir is written in the Bobrujsk colony, where Ales serves his sentence.
In August 2011 Ales Bialiatski was arrested, suspected of serious tax evasion, after Lithuania and Poland had disclosed information about Belarusian individuals' bank accounts, at the request of the Belarusian authorities. Ales Bialiatski is the head of Belarus' leading human rights organisation Viasna. Since Viasna has not been able to register and operate legally in Belarus, the organisation was forced to open private bank accounts abroad. In November 2011 Ales Bialiatski was sentenced to four and a half years in prison and confiscation of property.
International human rights activists has repeatedly protested against the treatment of Belarus' political prisoners and demanded the immediate release of Ales Bialiatski.