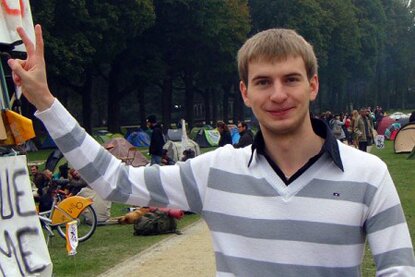 On June 12 in Vitebsk started the trial of a 23-year-old "Naftan" factory worker Andrej Hajdukou, who is  accused of treason. The young man faces 7 to 15 years in prison. Meetings of the court are confidential. Police and security services do not allow activists, relatives of Hajdukou, a representative of the European Union, human rights activists and the press to enter the building. Journalists are not allowed to obtain information or even take pictures of the court building. According to witnesses, the press members are unlawfully threatened with arrest.
Due to those occurrences, there is no reliable information about Hajdukou. Any reports with any details is readily blocked by the authorities. Andrej Hajdukou was arrested by the KGB on November 8, 2012, and accused of collaboration with foreign secret services. The authorities reported that they have allegedly caught "spy" when he was leaving sensitive information in a secret hiding place. In no way, however, has it been confirmed. Moreover, seven months have passed from the date of his arrest and there is still no explanation on in what way Hajdukou "betrayed the Fatherland" and for whom he worked.
Firstly it was reported, that he has been working for the United States. However, when the investigation and the judicial process began, the issue of his alleged "espionage" and "treason" was no longer commented by the authorities. For more than half a year  Hajdukou was imprisoned in Vitebsk KGB detention center, and in the Minsk prison, a place of rather notorious fame where the participants of Ploshcha 2010  were interrogated and tortured. It is also the place of arrest and execution of Konovalov and Kovalev, sentenced to death penalty for organizing Minsk metro blast. So far Hajdukou was not allowed to meet with his relatives. "Viasna" and other organizations fighting for human rights rings alarm as  there are serious suspicions that Andrej may be tortured and pressured psychologically.
Faced with such overwhelming silence, a real explosion of information is a letter written by Andrej Hajdukou to Tatiana Sieviaryniets, mother of political prisoner Paval Sieviaryniets  and a BCD coordinator in Vitebsk . Fragments of the letter and its copy was published by the  independent newspaper "Nasha Niva" on its website.
"I am accused of exposing national security to a risk, – writes Hajdukou – which is explained as an encroachment on the constitutional system of the Republic of Belarus and interference in the direction of policy changes of the Republic of Belarus which is contrary to its national interests. The nature of the damage can be expressed in the form of destabilizing socio-political situation. Surely the damage was made by my looking for the support in the U.S. Embassy (according to KGB its CIA budget ). (Quotes from the letter of Andrej Hajdukou – Palitviazni.info)
Due to the lack of information on the Hajdukou's case, human rights defenders have been unable so far to determine whether Andrej Hajdukou is a political prisoner or not. Nevertheless, a number of organizations managed to carry out actions of support to Andrej as a victim of political repression of the Lukashenko regime.
Andrej Hajdukou, as tells his mother, is a versatile person. He worked for "Nafta" to pay for his studies at the University of Polock. In summer 2011 Andrej participated in silent revolution in Minsk. As reported by his friends, during that time Andrej met Jauhien Konstantinov, who engaged him in cooperation with the "Association of Young Intellectuals." Soon after Andrej Hajdukou became the vice deputy of the organization. Andrej had sought to register the Association as international organization.
Palitviazni.info