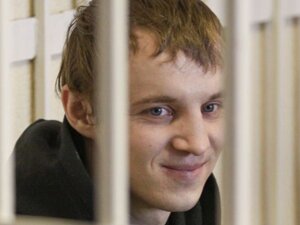 Some months ago, political prisoner Zmitser Dashkevich wrote about humiliations to which prisoners are exposed every day. Prison authorities allow to use spoons only during scheduled eating times. It means that between scheduled meals inmates cannot normally stir sugar into tea or eat food from their parcels. They have to use toothbrush cases instead of spoons. Zmitser Dashkevich filed a complaint to the Corrections Department asking to check if the rule is legal. The Department answered the rule existed, but did't refer to any particular document. So the question arises whether the document really exists.
The press service of Young Front published Zmitser Dashkevich's reply to the Interior Ministry:
"I'd like to thank you for your reply (of 28.12.2012 No. 29/D-3297) to my previous request. However, your explanations provoked even more questions.
Firstly, it is unclear to which document you refer when you say 'in accordance with requirements of the internal regulations […] inmates of remand detention facilities and prisons are given aluminum cups on a permanent basis. Dishes and spoons are given only at a meal time" – what particular regulation do you mean?
Secondly, if cups are allowed for permanent use, why cannot we use spoons? I do understand that you think you will never be tried in your life, but you will be judged by God. Will you be not ashamed for humiliating people by making them use toothbrush cases?
Thirdly, there were wise people in the Corrections Department who wrote supplement 3 to the Rules of Internal Schedule for Correctional Facilities (of 20.10.2000 No. 174) that says an inmate is allowed to have "a cup, a spoon (an aluminium, plastic or wooden one)" (paragraph 10 as amnded on 05.11.2008 No. 321). Did some sadists forbid to use spoons in the Belarusian understanding of humanity? Could you please tell me the number of the relative regulation?
Having great experience in senseless correspondence with the Corrections Department, I don't have naïve illusions regarding the opportunity of finding the truth in the depths of punitive bodies of the Interior Ministry of Belarus. I reserve the right to appeal to international organisations, including the UN Human Rights Committee, seeking condemnation of tortures in the 'correctional facilities' controlled by the Corrections Department of the Belarusian Interior Ministry."
Young Front leader Zmitser Dashkevich was sentenced to 2 years of imprisonment for hooliganism in 2011. He and Young Front member Eduard Lobau were accused of beating strangers a day before the 2010 presidential elections. Dashkevich pleaded not guilty. He said it was a provocation orchestrated by security services.
Zmitser Dashkevich spent one year in a penal colony in Horki. He was later transferred to a penal colony in Hlubokaye as a persistent violator of prison rules and given one more year of imprisonment.