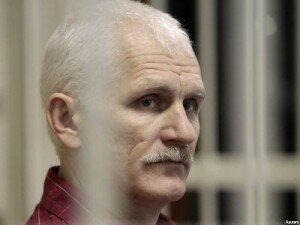 Political prisoner Ales Bialiatski, in his last letter to his wife confirmed that he had  received a package from  her and he thanks  for sending him a watch.
"This is the third watch that was send to him since he has been imprisoned in a penal colony. The first broke down, the second was crashed. I hope the third one will serve him good", – commented Natalia Pinchuk.
Why does the prisoner  need a watch in a penal colony, where as it seems, everything is done according to a strict daily schedule? Natalia Pinchuk explains this question:
"I do not know exactly, but I think that a  harsh rigor of time requires special timeliness and accuracy. At the time when I visited the colony, I had a chance to observe how it is organized there. A moment of distraction can  lead to punishment. And that can result in  restrictions on the right to receive parcels, to use phone, and even on visits from relatives. Moreover, Ales may also need to look at the clock during the working day. When there is a change of shifts, one is tired and it is good to know how much time of  work has left. This is an important psychological issue. Being free, we have no idea how such a little thing can affect the psychological condition of imprisoned person. "
Ales Bialiatski serves his sentence in the Babrujsk Penal Colony, where he is working as a packer of goods sewn by other inmates. In his letters, Ales writes that he works a lot.
On 24 November 2011, Ales Bialiatski, Chariman of the human rights organisation Viasna, was sentenced for tax evasion to four and a half years in prison and confiscation of property.