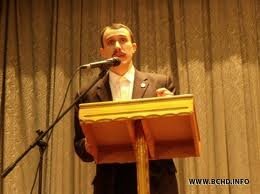 Political prisoner Paval Sieviaryniets admits that he broke a kind of a record: in the course of his imprisonment in the village Kuplin he has already received more than 2,000 letters.
During his previous time of imprisonment  in Male Sitno, he received 1850 letters. «Currently over 2000, even though the same period of time has passed  – one year and nine months», – concludes Paval Sieviaryniets.
Who and about what writes letters to a political prisoner? As Paval Sieviaryniets says most of the letters begins with the words "You do not know me, but I've heard/read  about you…". People write primarily to support him morally. Many people also share with him their opinions on the situation in Belarus. Hundreds of people continue correspondence  with Paval, which for him is the sign of readiness of people for a greater effort and not only a one-time participation in the campaign of solidarity.
Paval Sieviaryniets spends a lot of time on answering to the letters, it is 10-50 letters each week. But as Paval notes this work is not a nuisance, it rather charges him with energy. With more than 2000 letters received in Kuplin, only one letter was negative , it was anonymous and was about alleged "traitors sold to the West."
Where from come the letters? Pavel says, that more than 50% of the letters come from Belarus, more than 30% from Minsk, and about 10% from abroad. «Many readers of         "Nasha Niva ",  who read my articles in the section " Belarusian depths " write to me but also politicians and youth organizations activists. I correspond also  with other political prisoners, except for Mikola Statkevich and Jauhien Vaskovich The authorities banned all correspondence between me and them, despite repeated complaints on this issue on my part. And also many people who are believers write to me. Perhaps this is due to the fact that our party comes from the democratic – Christian movement. It is also possible that more and more people are disillusioned with the man as the sole source of strength and hope and move towards God» – notes Paval.
Paval Sieviaryniets, co-chairman of BCD party, was sentenced to three years of restriction of liberty for participation in protest against the falsification of the presidential election in December 19, 2010. His penalty should come to an end at the end of the year.