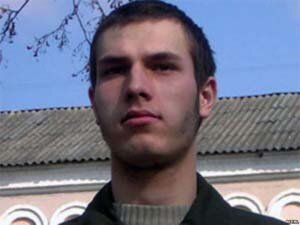 Political prisoner and member of the Belarusian Association of Journalists sent from the prison an unusual letter to his grandmother. Jauhien Vaskovich asks in it not  make any complaints in his case, as he writes: "I have to be here, not you…I believe you do not want to cause me troubles?"
"The press can write about me. But not very often, and focusing on the information that I am a prisoner." Jauhien also asks not to sent to the media the content of his letters. Wishes, letters of support, general information about his life in the colony – only this information, according to Vaskovich, can be revealed.
– It seems that publications about Jauhien published in electronic media as well as in the traditional one (and more specifically about some details of his life in prison) greatly annoyed the authorities. And that in some way have to have impact on the political prisoner, says Anatoly Sanotienko, chief editor of  the Bobrujsk's Courier (newspaper where Vaskovich worked). "Prabobly prison administration exerts on him moral and psychological pressure, or maybe there is something else …" – says Mr. Sanotienko.
At the beginning of August 2012 the editor of the Bobrujsk's Courier wrote a complaint to the committee at the Department of Justice Office of Mogilev. The reason for this action was the censorship of correspondence with Vaskovich – the prisoner did not receive the letters as well as the letters sent to the editor were also blocked.
Translation: Palitviazni.info