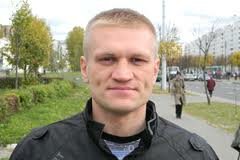 An opposition activists says political prisoners are under cruel pressure in prisons.
Syarhei Kavalenka   is happy to see his wife, son and daughter. He is not sure he is released for a long time.
The former political prisoner said in an interview for charter97.org he understands his release is a game of the authorities. "They decided they scared me enough and I will be quiet now. But I am not going to calm down. I will continue to promote our national symbols," Kavalenka says.
He says the most difficult time for him was hunger strike. "Specially trained psychiatrists tried to persuade me in the Vitebsk jail that I was mad and starved to lose weight. I answered them it was political hunger strike caused by lawlessness. I was taken to a detention facility in Minsk and Navinki mental hospital. They tried to brainwash me in this way everywhere," Kavalenka says.
Kavalenka met provocations in the penal colony in Mahilou. "They tried to undermine my image in the eyes of other prisoners. I had to defend. As a result I was thrown into a detention cell. Conditions were hard there. I was often visited and asked to apply for a pardon. They press on my love to children. They said I could see them soon… They are trained to say such things," Kavalenka say.
The penal colony administration does its best to label political prisoners as "persistent violators of prison rules" to set stricter confinement conditions for them and extend their sentence, Kavalenka claims.
"An unbuttoned button, not right place to sit down, waking up three minutes later the schedule. They find faults with you to classify you as a 'persistent violator' and worsen confinement conditions for you," Syarhei says.
The opposition member comments on the information about rape threats to Young Front leader Zmitser Dashkevich. "I believe this is true. Everything is possible in Belarusian prisons. Dashkevich is strong. I am sure he will survive," Kavalenka says.
Charter97