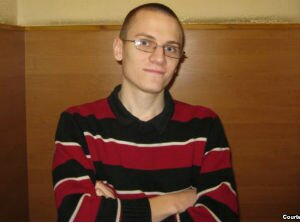 On September 14, 2011, the political prisoner Mykola Dziadok married Valeria Hotina. They took their vows in a penal colony in Shklov. Within a year of their marriage Mykola and Valeria have seen each other only 3 times during brief visits.
Mykola Dziadok's wife, Valeria, has no hope for a meeting with her husband any time soon, as at the end of May he was transferred to a solitary confinement cell in penal colony. He will stay there until December 6. He is not allowed to have visitors as well as to receive parcels and packages.
Mykola Dziadok has already received dozens of reprimands for violation of the prison rules and, according to his wife, there is a threat that the authorities will move him to a closed prison where the regime is far more severe.
On September 13 political prisoners was visited by a lawyer. He reported that Dziadok bravely bears all things and waiting for the book, which he was to receive from the family.
Mikalai Dziadok, Igor Alinevich, Aliaxandar Frantskevich, and Maxim Vetkin have been convicted by Zavadskoj court of Minsk city on May 27, 2011. They were charged with a series of attacks on buildings and burnings, in particular – conduct of an unauthorized anti-military rally near the building of the Ministry of Defence in 2009; throwing Molotov cocktails at the territory of Russian Embassy in Minsk and the prison building on Akrestina Street in 2010. Mikalai Dziadok is sentenced to 4.5 year in a strict regime colony.