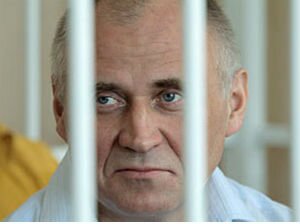 Former presidential candidate and political prisoner Mikalai Statkevich sent two letters and called his wife Maryna Adamovich, Radio Svaboda reports.
"Mikalai wrote just after his birthday. He asks to thank everyone who congratulated him, including Ivonka Survilla, Syarhei Navumchyk and Stefan Eriksson. He called on Saturday and was pretty cheerful. He said he felt fine and was given the right to receive a medical parcel. He worries about Yauhen Vaskovich, who is in the same prison. Something bad is happening there. He also worries about Zmitser Dashkeivch and asks to pass him words of support.
Relatives of political prisoners Eduard Lobau, Alyaksandr Frantskevich, Syarhei Kavalenka and others do not have any news about them. Natallya Pinchuk, the wife of imprisoned human rights activist Ales Byalyatski, does not receive letters from him which worries her.
"We don't have any news. His latest letter was dated August 25. It is unusual. He tries to write regularly and usually sends one or two letters per week. It's a prison. You begin to think that this silence means that something bad is going on," Ales Byalyatski's wife notes.
Natallya Pinchuk says the lawyer and she will try to contact the penal colony administration to receive  information about her husband.