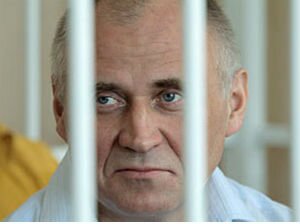 In prison, No. 4 in Mahilou, where Mykola Statkevich is serving his sentence the authorities have hired a new head of prison. This information was passed by Statkevich in a telephone conversation with his wife, Marina Adamovich.
For taking part in protest against the re-election of President Alexander Lukashenko on December 19, 2010 Statkevich was sentenced to six years of imprisonment. Initially Statkevich was held in a penal colony No. 19 in Shklov, then he was transferred to a strict regime prison colony. Marina Adamovich said that despite the fact that during a conversation with her Mykola Statkevich was in good humour, she is concerned about the recent changes in the administration of the colony:
– He was quite cheerful, while we were talking. From September 1, the prison is managed by  a different head. Mykola joked that one have to expect new ideas, the previous head of the prison did not manage well. He was fired or dismissed. There were rumours that he was not able to cope with prison management as he was expected. And this is not good news – says Marina Adamovich.
When the previous head of the prison, Alexander Lamaga, was in his office Mykola Statkevich was subjected to strong pressure. He was often placed in solitary confinement or repressed in other ways. The main aim of these measures was to force Statkevich to sign a request for clemency. Statkevich repeatedly refused.