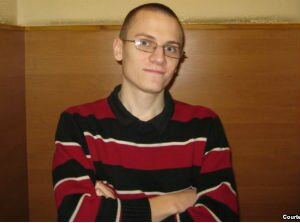 The trial of political prisoner Mikalai Dziadok will be held on 25 February in the Mahiliou-based prison No. 4.
The date was announced to the website statkevich.org by the political prisoner's wife Valeryia Khotsina. The trial will be held behind closed doors. The charges will be heard by a judge of Mahiliou's Leninski District Court.
Mikalai Dziadok, an activist of the anarchist movement, was sentenced to 4.5 years of imprisonment on charges of attacking a government building. He pleaded not guilty and refused to sign a petition for clemency.
International human rights organizations recognized Mikalai Dziadok political prisoner.
In late May 2012, the prisoner was transferred to cell-type premises for six months. Prior to that, he was repeatedly forced to write a clemency petition. During the time spent in Mahiliou colony No. 15 and Shklou No. 17 Mikalai received more than 10 penalties for various violations and lost his chance to be amnestied.
On 4 December 2012, it was announced that a special committee of the colony decided to transfer Mikalai Dziadok to prison, after the prisoner faced numerous penalties for breach of discipline, which were as many as 22.
In November 2014, 3 months before the expiration of the prison term, Mikalai Dziadok faced new criminal charges under Article 411 for "violation of the sentence". This article provides an increase in the prison term up to one year.
The investigation lasted for two months, then the case was returned to the prosecutors for another month.
Mikalai Dziadok was expected to be released on 3 March.
Source: spring96.org