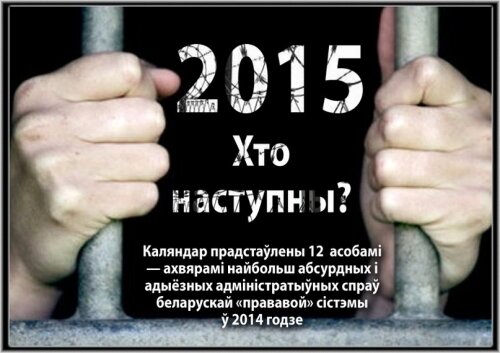 The Alternatyva NGO has released a special calendar dedicated to political prisoners in Belarus "2015: Who's next?".
The calendar focuses on 12 people – victims of the most absurd administrative cases, forged by the Belarusian authorities during 2014.
It includes photographs from independent media taken during protests, court hearings and in the most anticipated moment of the release of prisoners from the city jail in Minsk.
"With the help of the calendar, we want to remind the public about the issue of political prisoners in our country, and also to draw attention to the illegal and horrific practice of the authorities who are engaged in preventive arrests of unwanted citizens and their subsequent isolation in prison. If the Belarusian citizens pay no attention to such a policy, in 2015 there will be much more victims of the established system, maybe it will already affect them," says the leader of the organization Aleh Korban.