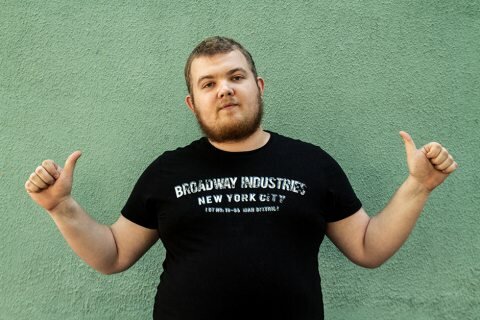 Pavel Vinahradau, one of the most active opposition leaders repeatedly facing persecution believes that after the events of 2010 showing solidarity with civil society activists in Belarus is becoming rather an exception than the rule. The campaigns of the recent months, during his arrest and the deportation of human rights activist Alena Tankachova, are a nice surprise, according to the activist.
The activist of the youth organization Zmena, a former political prisoner, tells in an interview with the Human Rights Center "Viasna" about the importance of solidarity, as well as the threats from law enforcement officers and the opportunities of killing time in Akrestsin Street detention center.
– Pavel, according to Viasna's statistics, as of today, you are an absolute record holder in total days of preventive arrests this year – 65 days. What do you think about this?
– Naturally, this record is a bit disgusting. And these arrests create some serious problems. But, what can I do? I know what country I live in, I know what happens with us for the work that I do. Our police are using all possible means to ruin my life, that's what they do.
– You know exactly what they want from you?
– Naturally. They told me this a few times and in different ways. First, there were threats that I received from the State Security Committee through third persons. They said: either you cease to hold street protests as a minimum, and even political activities at all or we'll plant drugs or put you in prison for years. And now the police threats: come on, they said, leave Minsk for Berazino, settle at your father's house, so that there's no sight of you here. Naturally, if I move to Berazino, it will be almost impossible to engage in any activity, since all things are mainly concentrated in Minsk. But so far I'm not going anywhere, although in principle such an option is not excluded.
– The current situation has no signs of a thaw or liberalization. Do you still have powers to resist?
– As for a thaw or liberalization, I believe that things can change literally in a moment. Suddenly, Europe offers Lukashenka incredible bonuses and he decides to turn to the European Union… Or Russia will put pressure on Lukashenka so that he gave up the independence of Belarus, and he turns to Europe. Then, of course, there will be a thaw. Not that I'm really looking forward to it, but I am OK and not going to give up. So far, it's all right.
– You are already in the middle of another year of added preventive supervision. In this regard, are there any new requirements from law enforcement forces that may tighten conditions for you?
– No significant changes, except that they've changed the day when I should come to check in – now it's Friday, and I'm limited to a certain time interval – now they give me just an hour, from 09.00 to 10.00, and if I'm late them it's a violation. I already have one violation. Two more and I'll go to prison.
And the inspector gave me to sign a paper saying that I agreed to be registered at the employment center. I said I did not want to go there, to which he replied that he was ordered to offer this to me. When signing this paper, I wrote that I was not going to the employment center. And they wanted explanations why I was not going there, but I refused to explain. I can imagine why it's all done, they want to get some explanations about this, so that they can use them in court "for parasitism". In any case, I'll try to get a job. And in general I try to give as little as possible reasons for quibbles: I do not throw cigarette butts near the trash, cross the road on the green light and in the right place, that is, even in small things I follow the Belarusian legislation.
– However, your arrests for "disorderly conduct", rather long ones, do not stop. How do you spend the Akrestsin days?
– Since I do quite often and for long periods find myself in the detention center, I had to find this some pros about this. In order not to waste time, there you can do something useful. Firstly, it's a suitable place to sleep well. People who have chronic sleep deprivation, who are very tired, I do advise you – there you can sleep all day though. Secondly, this is the right place to read a book, which you never had time to read. I advise these people, there is time and conditions for that there. If there's nothing to do there, you can do sports. However, conditions do not always allow that, because the cells are filled with smoked, but sometimes it's OK. The only thing is that the opportunity to take a shower is not often available, but I have learned to cope with five liters of water. You can also walk around the cell thinking about what you want to do on when you are free. For example, I am walking and thinking of new campaigns, there are some ideas. The man who writes may write articles there. I wrote a lecture on what to do during an administrative detention, at various stages – the moment of detention, stay in the police department, the court, the detention center. I tried to formulate recommendations – what to do where, what problems you may have, and how you should behave. And most importantly, how to avoid arrest. For me, of course, it's not the case, but for not so public activists with just minimum of tweaks you can do away. So far, I have not read this lecture to anyone, but I am going to try it soon.
– During your last arrest, there was a campaign of solidarity. Could you feel it somehow in the walls of the detention center?
– For me, there it was not very noticeable detention. But, naturally, I was pleased when cards started coming from different people from different cities. They gave them to me on my last day and they did not give them all, as I learned later. Nevertheless, it was very nice. Also, there were a few newspapers, Narodnaya Volya and Svobodnye Novosti, which had articles about me and that raised a wave of solidarity. And my cellmates read them. But in general, time will tell what the effect will be, and whether there is any.
I want to say that, in principle, solidarity now is rather an exception than the rule. The campaign in my support and what is happening now with Alena Tankachova are a pleasant exception. I do not know what is the reason, people intimidated or indifferent attitude to the politics in principle, but the manifestations of solidarity are becoming rare. As far as I can recall, by 2010, it was better, then it all went down.
– How can the Belarusian society, the civil society, in particular, get rid of the sluggishness of which you are speaking now?
– If I was John Paul II, who in Poland said, "Do not be afraid!" Honestly, I do not know who should be a person to make Belarusians listen… If I were the person, I would keep saying these words "People, do not be afraid!"
– Is this your guiding principle?
– One of the most important ones, that's for sure.
Source: spring96.org