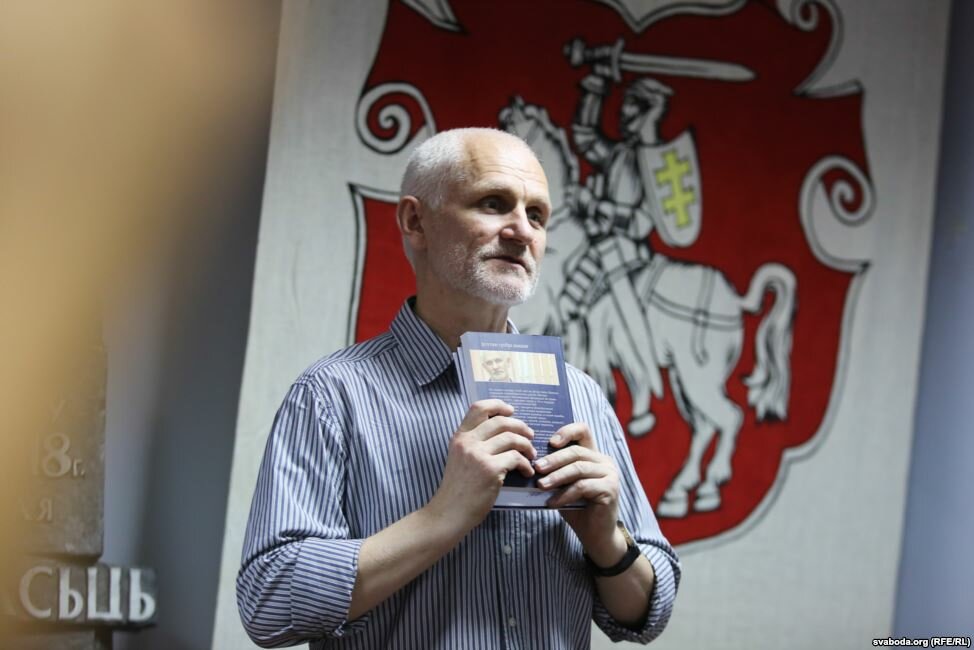 "Svaboda without Ties" speaks with the chairman of the Human Rights Centre "Viasna", former political prisoner, literary critic, writer, nominee for the Nobel Peace Prize in 2012 and 2013, Ales Bialiatski.
Exactly three years ago, on August 4, 2011 he found himself behind bars. During this time, has Bialiatski or the country to which he returned changed? Why do not former Belarusian political prisoners become strong political leaders after their release from prison? Which prison literature works should be included in the school curriculum? Why are books so easily written in prison? Should the national elite focus on cultural projects instead of politics? What could the Nobel Peace Prize bring to Belarus?
This and the other things are discussed with Ales Bialiatski by Hanna Sous and Siarhei Dubavets.
Hanna Sous: There are instances when a former political prisoner became a political leader – Mandela, Havel. In the modern history of Belarus there are many examples when a political prisoner faced high expectations. While he was in prison he was the focus of attention of the world. After the release, there was a short time of liberation euphoria, some loud statements, former political prisoners were invited by major Western leaders. And then basically nothing happened. Former political prisoners either left the country or focused on family, religion, and became less active due to various reasons. Why is this happening? Is the Belarusian prison so effective?
Ales Bialiatski: Firstly, prison, indeed, is a difficult test for our political prisoners, as there are various means of influence, pressure on each individual, against those people who are behind bars for their political beliefs. There is a real fight, when you fight the system of the colony, the Department of Corrections, which, of course, receive instructions from higher offices. I'm not surprised and totally understand those people who, after such "roasting" go free and it takes some time so that a person could come to his senses. To some extent, I'm not yet completely free. Some part of me is still in the colony and the process of internal rehabilitation goes on and on. As Aliaksandr Kazulin told me during our meeting, I still have six months of adaptation, and then I will be more or less normal. This was his experience of adaptation.
As for the hopes of society for the political prisoners who have been in prison, to a certain extent, I think that they will come true. In fact, people have not moved so massively from some civil activities and politics. Just look at the current civil society and political activists, and you will see that a significant portion of them passed through the prison. Another thing is what we want? We think that a person walks free as a kind of oracle, or becomes the absolute authority? These hopes, I think, are inflated, because even though the prison changes people, on the other hand a person yet, it seems to me, as he was in his nature, so he remains after prison. So I do not think we can expect some quality breakthroughs from people who have been in prison. Maybe I'm wrong. But on the other hand, the fact that political leaders were and still are in prisons, and Mikalai Statkevich remains behind bars, it's certainly their strong capital in social activities, because if a person has gone through these experiences, then such a person enjoys trust in the society. I do not see myself as a political leader. I am a civil society figure, anyway, a human rights defender. Just like I was engaged in human rights work, trying not only to help and somehow integrate civil society in Belarus, both with my word, authority and actions, so I am going to do this in the future.
Siarhei Dubavets: There is a concept that politics is dead in Belarus, at least, if clarifying that opposition politicians are marginalized to such an extent that they simply cannot be seen, cannot be heard, and the authority it has is zero, if not negative. You used to head the Bahdanovich museum, then the Human Rights Center "Viasna". If we consider this marginalization policy today, then today the sphere of cultural development is absolutely prosperous. It all goes from the grassroots level, as the state kissed good-bye to everything. But just like back in the 80s, when "Maistounia", "Talaka" and other informal youth organizations were created, it is in the national-cultural sphere that the mobilization of new people took place. Today we see these open-air festivals, and language courses that gather hundreds of participants, and a lot of attention to the young literature and music. Is the situation repeating? Again, there is an informal mobilization, which now has nothing to do with politics, at least tries in their embroidered shirts not to go further, but if there forms a critical mass of these people, will not it be like in the late 80s? Will it all be in a way politicized and become a force for changes? And may be it's worth today not to waste so much time on marginal politics, but on informal culture and new initiatives?
Ales Bialiatski: Indeed, this is something new for the three years that I noticed when I came out of prison – the emergence of numerous cultural, environmental, human rights, youth initiatives, working quite well, which do not set openly political objectives and who are looking for small but successful steps, and it's curious. It seems promising, and we, for our part, will support it. Although I would not put an end to the political part of the civil society in Belarus. You have to understand the hard conditions in which they have to operate. We work closely with political activists in terms of aid and see that each of them personally (both youth activists and the older generation) are under pressure from the state and face punishments or other life difficulties. And we should understand this, that they have no great potential for expansion, but the fact that this political sector exists, it is extremely important to the overall civil situation. The fact that the sphere of non-political, civil society activity is now rapidly beginning to develop, it also shows that young people do not see great prospects in political activities. After all, if you smash your head against the wall for 20 years and for that you get only bruises and no moral victory, then, of course, comes disappointment and searching for other ways. I think it is extremely important, particularly given the fact that today the national cultural initiatives is a real opposition to Russia's ideological attack, which reigns in today's Belarus. A paradox, but the Belarusian culture today is uniquely identified with European culture and it is an extremely important point which distinguishes it from what it was thirty years ago. Today, the person who speaks Belarusian, sings in Belarusian, teaches his children in Belarusian, this is definitely a pro-European person, it is a European.