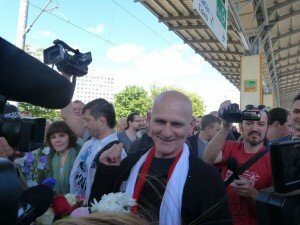 Human rights defender and recent political prisoner Ales Bialiatski told Narodnaya Volia about his foreign accounts, prison life, family, and why he does not want to run for president.
PERSONAL FILE
Ales Bialiatski was arrested on 4 August, 2011 and sentenced to four and a half years' imprisonment in maximum security prison with confiscation of assets for large-scale tax evasion.
Grounds for criminal prosecution were his foreign bank accounts, which were used to fund human rights activities in Belarus.
The human rights defender served the sentence in penal colony No. 2 Babruisk. He was considered a prisoner of conscience by the world community. Ales Bialiatski was released under an amnesty on 21 June, 2014.
In 2006-2007 and 2012-2014, Ales Bialiatski was nominated for the Nobel Peace Prize.
In May 2013, he was re-elected vice-president of the International Federation for Human Rights (FIDH).
"First they push you out of legal field, and then they put you in jail…"
– To start with, let's dot the i's in the story of your foreign accounts, which became the basis for the criminal investigation. The Lithuanian Ministry of Justice and the Polish prosecutor's office provided the Belarusian financial police with information about these accounts… Could you have opened them in Belarus?
– Of course, it is impossible. It is necessary to mention the situation that the Human Rights Center "Viasna", which was dissolved by the authorities in 2003, had no right to carry on any legal activities in Belarus. Although until 2003, as long as we had registration, we had an official account and we paid the taxes. In addition, all foreign financial assistance should be registered with the Department of Humanitarian Affairs of the Office of the President, but there are no such activities as human rights work, in principle. You cannot get assistance, although in many countries human rights programs are exempt from taxes. But after we were closed, we could not leave the problems and issues that we were engaged in. We helped victims of political repression, were engaged in educational activities, the death penalty… We were looking for a way out of the difficult situation, and therefore it was decided to open accounts abroad. We had an agreement about his with the foundations; the printouts that were leaked to the Financial Investigation Department stated the purposes for which the money was spent. In short, there is a range of issues. First, they push you out of the legal field, and then they say, "You're a criminal on all sides!" And they put in jail. By the way, during the trial, our foreign partners confirmed that the money was given for human rights activities, we have the reports. But no one was interested in this is… Belarusian authorities, which had an agreement with the Polish and Lithuanian colleagues, just used them to deal with domestic opponents. I knew that the decision in my case would be taken in high offices. If you are engaged in civil activities, you are already at risk because you are a kind of a problem for the authorities.
– After your arrest, state media repeated the fact that tax violations are severely punished worldwide. They wrote that you owned two apartments in the center of Minsk, a cottage in Rakau, a gorgeous car. And wondered: "Why a tractor factory worker has to pay taxes, and human rights activist Bialiatski does not?"
– I paid taxes from my salary, and the tax inspection had all the papers. But why did I have to pay more and not from my money? Under Belarusian law, if you are a person who does not use funds but pass them for other activities, you will not have to pay taxes. If the state wants us to pay them, then no one's against it. Register our organization and allow human rights defenders to work in the legal field, instead of being pushed into the underground condition.
As for the apartments, cottage and car… These cases were addressed at the trial. One of the apartments, which, incidentally, was seized, actually belonged to the human rights center – our office was there for over ten years. As we foresaw problems with the registration, by common consent the apartment was registered to me back in 2000. We live now in the other apartment, and what we have in the country is an ordinary rural house. As for the car, if a used 2001 Citroen, which has been in our family, is the very "chic car", then there is, as they say, no comment. I can only be happy for myself that I purchased this miracle of technology, as it was written.
– By the way, what salaries do human rights activists have? From what did you pay taxes?
– I earned money by translating and preparing publications. As I said, the tax office has all the papers.
"They took me and 12 jars…"
– Were you expecting arrest? Were you mentally prepared for it?
– After the tax inspection in June 2011 (six weeks before the arrest) showed me the printouts from the Lithuanian bank, I consulted with a lawyer about how the case could further develop. He was short: "It will end up with arrest." Then for a month and a half, I, along with the lawyer, tried to defend my innocence, the legal nullity of those papers, but… The case was run by the tax officials and investigators of the Financial Investigation Department (FID) in Minsk, and so they could "lock me up" at any moment. They could just say that the bank printouts were enough – and that's it. But they did not touch me; during this time, I travelled abroad for six times, as I was teaching in the school of human rights in Vilnius. The authorities simply squeezed me out of the country, waiting, perhaps, for me to be scared and stay abroad. For them, it would be a wonderful gift of fate – both discrediting me completely and throwing a shadow on the Belarusian human rights movement.
– Did somebody advise you to seek asylum abroad?
– Yes, because the situation seemed quite serious. But there were one hundred arguments in favor of staying and fighting at home, and not a single against. Fleeing would be wrong.
– You were arrested on August 4, 2011. Do you remember that day?
– Of course, though it's been three years. In August, I was going to rest after a huge amount of work that we, human rights activists, had done to observe the elections, and after the events of December 2010, to defend political prisoners. On August 4, I took a subway to work, but my colleagues phoned me to tell that some suspicious persons in civilian clothes were hanging around outside the office. Then I got off and went home. On this day I was going to the country to make jam, so went to the apartment and took 12 small jars… So they detained me near the subway station together with the jars. They showed a warrant, and then there were searches during the whole day – in the apartment, in the office, in the country house.
– And what were they looking for?
– Investigators were interested in the papers, they must have been searching for incriminating evidence and the money. But none of what was arrested or seized appeared at the trial as evidence of my "criminal activity". The day after the arrest, there was the first interrogation in the FID and in the evening I was in jail in Valadarski Street.
– Sudden change of sets…
– Yes, I was going to make jam, and ended up in prison. (Laughs) The gate of the legendary Valadarka prison opens in front of you, which our famous Dunin-Martsinkevich, Yakub Kolas and the repressed Belarusian writers of the 1930s used to pass… I was prepared that the arrest could happen at any moment, but when you find yourself in this situation – it is always stressful… So the first two or three days I noticed that I was retarded. Then there was adaptation, and I clearly realized what had happened in my life. Everything was left on the other side of the bars – family, friends, plans, jam and cat Kasia… You lived on Earth, and now you are on the Moon. Prison immediately strikes a blow at a person.
A holy place is never empty
– At one time, many political prisoners who had gone through the same steps in their lives, said that all inmates had an absolutely normal attitude towards them. Is that so?
– Wherever I have been in these three years, I saw nothing but respect from other fellow sufferers. People understand that you were in prison for your beliefs, for the idea. Another thing is that there are prisoners who cooperate with the administration of the facility. From them you can expect all sorts of provocations. Some could have large sentences, and they had to earn small privileges. Some were promised to be transfer to the "chemistry" (correctional labor camp). That made ​​them informers. But I quickly realized one thing: nothing could happen to me there without specific instructions from those who oversaw my time in prison. It's not even the prison administration – they have their own problems. The curators of political prisoners are in Minsk, and it's them who write the instructions, even though I do not know which exactly agency is in charge of that. The individual mode of detention for each political prisoner was designed there. By the way, back in Valadarka I was in a quite decent cell – there were eight beds and no more than eight people on them. I slept on the bunk which used to be occupied by a former presidential candidate Dzmitry Us. He had been sent to the colony, but, as we see, the holy place is never empty.
– Ales, let's go back to the trial. What did you expect from the court? What were your impressions of the trial?
– When I studied the case file and I saw that it all began with a letter by the deputy chairman of the KGB, who wrote to the State Control Committee that there were some printouts received by investigators, I realized that from the beginning to the end my case was controlled by the KGB people. I was even surprised by that, because the situation is reminiscent of the 1970-1980s, when in the same manner they punished human rights defenders in the USSR. It turned out that the check-up on my foreign accounts was not an initiative of the tax officials, but quite different agencies. So for me it was fundamentally important to show in court my innocence and the absurdity of the charges. And the goals that I set, I think, I fulfilled them. At trial, the charges were falling apart. At least, I did not lose, despite the long sentence that I received. Four and a half years – too much even for this article, as it provides for "chemistry".
– A logical question: does Belarusian need human rights defenders who cannot defend themselves?
– Human rights defenders raise the issues that are relevant for the whole society. And if people do not have something legitimate, deprived of something, then we say it out loud, we write, draw attention, and so they cannot just silence us. This is a broad level of advocacy. But there were many instances where we specifically helped ordinary people. A striking example: thanks to our work, the Supreme Court overturned a death sentence. There were hundreds and thousands of cases in which we were able to achieve at least something positive. Yes, I agree that in an authoritarian state, you can face political charges at any time. And in this case it is difficult to oppose the courts. But if you do not knock on doors, they will never open.
"In the quarantine they told me: "You've got syphilis…"
– In the colony, there were easier conditions, because life in a lock-up, in a limited prison space – it's hard enough, although there is less pressure from the administration. In the Babruisk colony, where I was brought, they immediately sent me to the quarantine. End of February – the frost was awful! At night it reached minus 20 degrees outside, and the windows had only one glass. They washed floor, and the water turned to ice. Maybe, it was just two degrees in the barracks, I thought I would never sleep there. But there were a lot of people there, they breathed, and it got warmer. Those were my first impressions… I was in the quarantine, I passed the tests, it was time for distribution. They say: "You're the one who will stay in the quarantine." I wondered, "What's happened?" – "You have syphilis", they answer. I immediately understood which "syphilis" was meant. The administration was hesitating what to do with me, and therefore they held me in the quarantine. Then they decided to send me to the unit, and a week later a repeated blood test was OK.
– And you were a malicious violator of prison rules…
– Internal prison rules are vague and allow to punish any prisoner for any minor violation, deprive him of visits, parcels, send him to punishment cell. The question of what to do with me was acute for the administration, but I personally never worried much about this. I calmly took the situation when in 2012, before the amnesty, during a month and a half they invented three violations. I became a violator of the prison regime and, despite the fact that I became an honorary citizen of Paris, I flew with my amnesty like the plywood over it. These violations were registered regularly, and in the same year I almost got in a punishment cell. My wife had sent me a pair of shoes and the controllers let it in. But as soon as I put them on, I immediately received a penalty for "irregular footwear". I was preparing for a lock-up, I had passed a medical examination, which is required in such cases, and suddenly – no punishment. The following day was my 50th birthday. And that's just on my birthday that I learn that the Apostolic Nuncio Claudio Gugerotti had come to visit me. They allowed, so to speak, the sole representative of the international community. The meeting was held in the office of the colony head in the presence of one of the heads of the Department of Corrections. I did not wish to tell Nuncio about my case, because I could not see how he could help. The Archbishop himself has a humanities education, he used to teach at the university, so we talked mostly about the Italian and Belarusian literatures. For me it was an unforgettable experience, a wonderful surprise, the person supported me morally. I realized then why they had not sent me to solitary confinement. I imagine how a meeting with the Apostolic Nuncio would looked like then. In general, during the entire time, I got 12 violations, and such a detention regime continued to January this year. After that I no longer received any violations.
– Did you earn some money in the colony? You worked there as a packer…
– My last salary in May was 44,000 rubles. 33,000 of them went to pay for my detention. Thus, I received 11,000 on my account, which I could use at the prison shop and, as they say, afford anything. Although, of course, I received money from outside prison. However, that shop was like a poor village store. Thank God, I do not smoke, so I did not waste money on cigarettes. Which, by the way, was a great help to me, because there was a time when, due to violations, for eight months I did not get a parcel. And what could you buy for 100,000 a month (used to be such a rule, though now it was increased twice)?
"The family was the foundation which helped me when I was in prison…"
– How did your family go through this difficult situation?
– I have a wonderful family. For me, as for any prisoner, it was important to feel the support of my loved ones. Then it was more calmly and confidently. My family supported me one hundred percent, it was the foundation on which I stood, when I was in prison (that's a pun, I guess). But soon after my arrest my father was diagnosed with lung cancer. Four months later, he died. Out of the Zhodzina jail, they brought me to part with him, and now I have been to the cemetery…
– What do your wife and son do?
– My son graduated from the Academy of Arts (Directors' Faculty) and continues education in his major in a post-graduate program in Poland. And my wife, she must have also suffered because of my work. The Academy of Sciences confirmed her PhD thesis on "Jewelry of the Middle Ages", she had passed through a scientific council, but at the Higher Attestation Commission level late last year her work was "killed". It was the work of her life. Natallia researched ancient ornaments in terms of their artistic value for the Belarusian culture.
– As far as we know, you actively did literary work when in prison…
– I wrote wherever I had the opportunity. The paper was for me the best company. Writing was easy, one or two pages every day. Considering how many days there are a year… Over the three years in prison, I wrote as much, perhaps, as for the last 25 years. It was a reason not to be idle. A peculiar form of civil resistance. There are, incidentally, some texts that still need to be completed when I'm free.
– And what did you read?
– In the colony, there was quite a normal library. I read Solzhenitsyn, Grossman, Tolstoy and many more… I was subscribed to Narodnaya Volia, other independent outlets. However, it was forbidden to give these newspapers to someone else, and those who took my newspapers were transferred to other units. By the way, before I was transferred from the quarantine to the unit, four people who were subscribed to Narodnaya Volia were sent to other units. They probably thought that the five people who read Narodnaya Volia – this was already an organization.
– Ales, there are examples in the history of the Czech Republic, South Africa, when political prisoners went free, and then became presidents of their countries. You had no thought to compete for the presidency?
– Neither at liberty nor in prison, I never thought about it. Because it is not mine. It is necessary that people aspired to such goals that they like. This is about choosing a life path, but I have never seen this path for myself. I am a human rights defender, a civil society activist, a bit of a writer. There is one more formal aspect – I was not born in Belarus, but in Russia, in Karelia. And, according to the Constitution, the President should be a person who was born in Belarus.
– What lessons did you learn for yourself from the prison life?
– The struggle continues. Prison – it is a serious piece of my life, but not the biggest one, which I have spent in social activities. What I used to do before, I will do it in the future. And the experience and a better understanding of the relationship between the authorities and the people that I gained in the colony, I think, are sure to help me operate more efficiently.
Ales Sivy, Narodnaya Volia