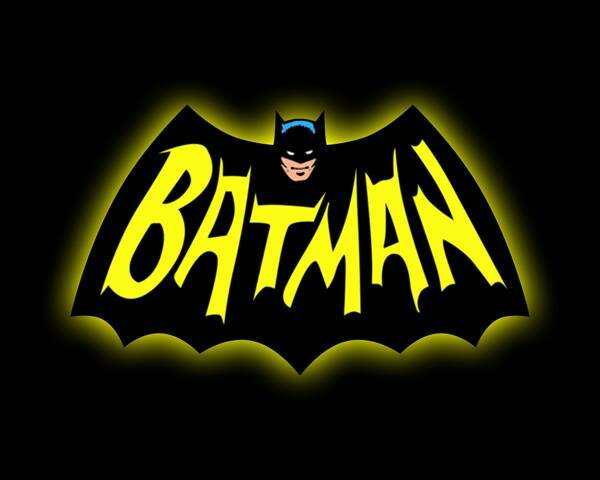 On June 1, a volunteer of the initiative "Food Not Bombs" Aliaksandr "Batman" Kurets was released from prison after serving a 15-day arrest for allegedly using foul language during the World Ice Hockey Championship.
"Batman is because Alex is helping people"
Alex, aka Batman, was met by two dozen people. They prepared gifts, balloons and stickers depicting Batman, and a cake had been bought. However, staff of the detention center did not allow the friends to meet their "superhero" – they took him to the police department, and then released. Alex had to be congratulated on the release at home.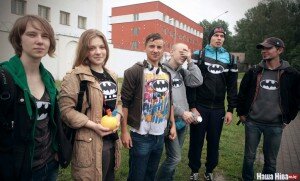 Solidarity is above all
According to Aliaksandr, the authorities do not like to see the support, the solidarity expressed by detainees' friends, therefore the police officers do dirty tricks on the prisoners and take them outside the prison in Akrestsin Street. During his time in prison, Alex was actively supported with letters and telegrams, and the online community after the verdict spread the following poster.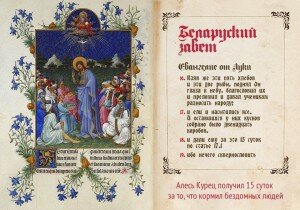 He survived the conditions of detention as a true hero
Alex "Batman" Kurets said that during his arrest he only lost 1.5 kilos, but he did have complaints about the food:
– Food in prison allegedly costs 75,000 per day, but I'll be honest: it is not worth the money. As for walks, in 15 days they took me to the fresh air only 3 times for 15-30 minutes, and never received any responses to my complaints regarding these violations. Also, in the last 3 days I had to sleep with the "upper" lights on, as a light bulb in the cell had burned out, and it was never replaced. It should be noted that the parcels were not brought when they were passed, but the following morning. It made me feel uneasy a bit, because it was unclear if they would bring the parcel or not," says Kurets.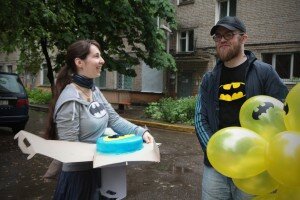 Reasons for detention
Alex "Batman" Kurets says his arrest is not linked to the World Ice Hockey Championship, but rather to his activism in "Food Not Bombs". Kurets says that he was detained to intimidate those who are helping the homeless, showing that not all is well on our island of stability.
Aliaksandr Kurets, along with others, was detained on May 17 during an action by "Food Not Bombs" near Mikhailauski Garden in Minsk, where free food was distributed to poor people. During a personal search at the police department, as soon as the policemen found T-shirts "Freedom to Political Prisoners" and stickers produced for the World Championships, they immediately decided to charge Kurets, the remaining protesters were released. It was the first arrest for Alex Kurets.
The initiative "Food Not Bombs" was launched in the U.S. in the 80s. In 2005, Belarusian youth activists started giving out free food to the homeless, protesting against budget allocations on the military, while the country still has people who do not have money for food and clothing.
Palitviazni.info, photos by nn.by