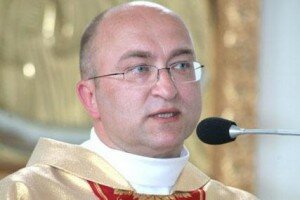 Information about releasing the priest was published on the website catholic.by
"Competent state authorities have informed the Apostolic Nunciature in Belarus, that there is no more basis for further retention of priest Uładzdislaw Lazar in custody. In the course of the ongoing investigation, it was decided that the clergy should remain at liberty, with freedom of movement and action in accordance with specified standards, with an obligation of daily report to the police station. Apostolic Nuncio was asked to take a cleric from custody."
***
The information about stopping the priest was known when on the 26th of July, Alexander Lukashenko told reporters that the officer of Belarusian special services was stopped, because he probably cooperated with foreign countries by means of the representatives of the Belarusian Catholic Church.
"We recently arrested one of the traitors, who worked in our special services and who was connected with foreign countries by means of  representatives of the Catholic Church and not only passed information to them, but because of his activities have been injured people working abroad "-  said Lukashenko.
On the 29th of July information about the arrest of Father Lazar was confirmed by a representative of the Roman Catholic Church in Belarus.
Priest Lazar had been charged about transfer of money and material goods for a person who is accused of spying for another country. The prosecution built on the basis of art. 356 pairs. 1 of the Criminal Code  (treason of the country). Criminal responsibility of the act defines art. 16 pairs. 6 (cooperation in the crime committed), which provides a penalty from 7 to 15 years of imprisonment. On the 12th of September Confederation Episcopal of Belarus announced that the priest was stopped in the KGB detention center in the capital.
The Case of father Lazar was discussed during the meeting Apostolic Nuncio Claudio Gugerotti with Pope Francis. On the 25th of October Nuncio visited the detainee in custody.
Father Uladzislaw Lazar is a citizen of Belarus. He graduated the seminary in Grodno, then continued his education in Poland. In April last year, he was nominated as pastor of the parish of Pentecost in Borysow. Previously, he served in Marine Horce and in Rudziensk (puchowicki area in Minsk oblast).