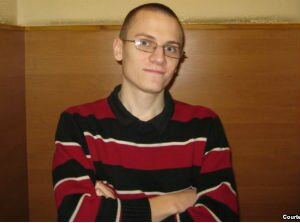 On the 1st of December Mikalaj Dziadok was transferred to the prison hospital in a penal colony in Żodzin. The spouse of Mikalaj Valerie Chotín informed media about transferring, citing the words of a lawyer who visited the prisoner in the colony.
"Mikalaj went to the hospital because of stomach pains, for which complained from three years. Previous treatment was ineffective and the Mogilev prison decided to refer him for observation and hospital treatment. My husband told me that from Mogilev to Żodziny he was transported in stages, which took almost half a day and it was hard to bear. Now he is in the hospital. Treatment looked as follows: they give him pills and even lead to treatments, but in handcuffs, because in prison acts is written that he is "willing to escape." Regarding the rest he said that is fine" – said Valerie Chotín.
Let us recall Mikalaj Dziadok, as well as co-defendants Ihar Aliniewicz, Alyaksandr Franckiewicz and Maksim Wietkin have been convicted by a court of Zawodzk region in Minsk on the 27th of May 2011. They have been found guilty of the offenses of art. 339  pcs. 2 of the Belarusian Criminal Code (act of hooliganism) and art. 218 pcs. 2 and 3 (intentional destruction or damage of property). Blaming them for a series of attacks on buildings and arson, among other things, to carry out an illegal anti-war action next to the building of the Ministry of Defence in 2009, throwing bottles of flammable liquid on the territory of the Russian Embassy in Minsk and  building of the prison on the Okrestina street in 2010.
Human rights activists think that the judgment for Mikalaj Dziadok and for others convicted in this case is politically motivated judgment and determine Mikalaj as a political prisoner.